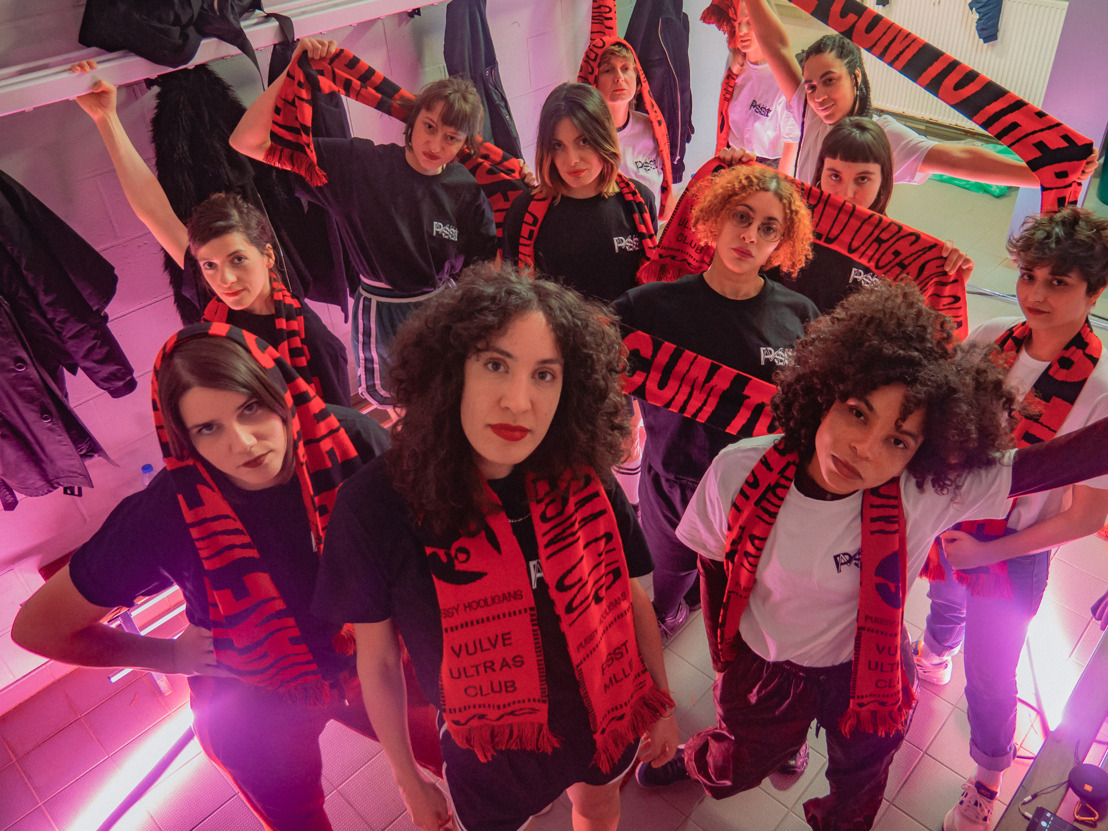 Womxn programming womxn in prominent music venues in Brussels
To celebrate their second birthday and International Women's Rights Day, Psst Mlle presents 'Intersections'.
Friday, February 28, 2020 — On 7 and 8 March, womxn programmers and artists will take over Brussels' prominent venues Ancienne Belgique, Beursschouwburg, C12, FFORMATT, LaVallée and VK. Ten programmers gather their forces to present a weekend with womxn line-ups only, bringing together different genres, venues and organisations.
ABOUT PSST MLLE
Psst Mlle is a platform promoting womxn in arts and culture through pluridisciplinary events. For the past two years, Psst Mlle has organised concerts, parties, workshops, talks and also an exhibition turning the spotlight on womxn while opening the conversation about feminist topics such as female pleasure, working together and gender misconceptions.
TEN PROGRAMMERS
"All we did is basically gather our forces to create something bigger together, rather than on our own. The industry is too hard not to work like this." Souria Cheurfi - founder of Psst Mlle and editor-in-chief at VICE Belgium
"When we challenge the imposed belief that womxn must be competitive with one another -by doing the complete opposite-, one can start to hear the backbone of a rotten system teeter. For me personally, it almost feels like an act of rave-ellion." Noemi Cano - founder at Missfitte
"Womxn and their energy keep surprising me; even though we are constantly pushed down and learned to feel inferior, our creativity always finds a way to bubble up and express itself. We do this through alternative and atypical ways in a society that is so result-driven and competitive. This collaboration between venues, promoters, artists and genres is the perfect example of that, and I'm very happy to be able to be part of a mouvement showing that alternatives are still possible!" Rrita Jashari - DJ and music programmer at VK
"In a world where everything is focussed on the individual, a music industry in which competition takes the upper hand, it is so inspiring to find like-minded programmers and be part of a collaboration in which passion, enthusiasm and supporting female artists/curators are central" Astrid De Sterck - music programmer at Ancienne Belgique
"The system wants us to be individuals easy to manipulate, well then we build collectives impossible to corrupt!" Diana Barreto - DJ et co-fondatrice de Tropical DJipsies et de Festa Afrotuga, co-organisatrice de Rebel Up et de Giraffes & Penguins
"Music is an experience. So for me it's important if we can support each other in this. It shouldn't matter if artists are female, locals, friends or artists from around the world, as long as they make cool stuff and can contribute to that experience." Maïsha Amany - music programmer at Ancienne Belgique
"I'm thrilled to see so many womxn are part of the music industry as musicians, DJ's, organisers, promoters, technicians, communicators... I hope many more will follow." Gilke Vanuytsel - music programmer at Beursschouwburg
"Intersections is not just group of womxn active in music getting together and showing that 'we can', it's also a way to foster collaboration between cultural institutions and independent female-lead initiatives." Sara Dziri - DJ, music producer, co-founder at Not Your Techno and founder of Souk Sessions
"As womxn, let's stick together and do the thing that sits on our ribs. Let's collaborate and do the thing that writes happiness in our bones. Let's move on with our dreams and passion for music and art in general" Yasmine Dammak - co-fondatrice de Not Your Techno
"As a selector, I try to highlight the roles that womxn play and have played in historically white cis-male dominated environnements such as the punk, post punk and industrial scenes, where they often ended up invisibilized or considerated as less important." Marouchka Payen - DJ
18 PERFORMANCES IN SIX LOCATIONS
7 March • Intersections - C12 (dance performance)
Curated by Souria Cheurfi
Tinkling - danse performance by Talitha De Decker
Bora Bora (DJ set)
tickets

7 March • Intersections - FFORMAT (techno)
Curated by Souria Cheurfi & Noemi Cano
Bora Bora
Stellar Om Source
Fleur (AV live)
Anna Yad
tickets

7 March • Intersections - VK (global sound)
Curated by Rrita Jashari & Diana Barreto
Tropical DJ'ipsies
La Sirocco
MIMI B2B Rrita
Nídia
tickets

7 March • Intersections - Beursschouwburg (wave/punk)
Curated by Gilke Vanuytsel & Marouchka
Rumours (live)
PEGA (live)
Marouchka
tickets

8 March • Intersections - La Vallé (techno)
Curated by Sara Dziri & Yasmine Dammak
RAG
Soumaya Phéline
DJ Dziri
tickets

8 March • Intersections - Ancienne Belgique (hip hop)
Curated by Astrid De Sterck & Maïsha Amany
Amalyah (live)
Mathilde Fernandez (live)
tickets
LAISSE LES FILLES TRANQUILLES LAUNCHES NEW CAMPAIGN
"Create an inclusive music industry" is the name of the new campaign launched by Laisse Les Filles Tranquilles in collaboration with AB. The street guerilla feminist collective has come up with six new slogans and posters addressing gender inequalities in the music industry. This campaign will be revealed during Intersections, at all six venues.
AVANT-PREMIERE: DIVERSIDEAS on sexual harassment in nightlife
As she's also the editor-in-chief of VICE Belgium, Psst Mlle founder Souria Cheurfi uses this event as an opportunity to release the third episode of the DIVERSIDEAS series. After talking about racism and diversity in Belgium, VICE is now addressing sexual harassment in nightlife. Six Belgian womxn share their experience and think about solutions in a short video which will be premiered at the six venues where INTERSECTIONS takes place, before the official online release on March 8 on Instagram, Facebook and VICE Belgium's website.