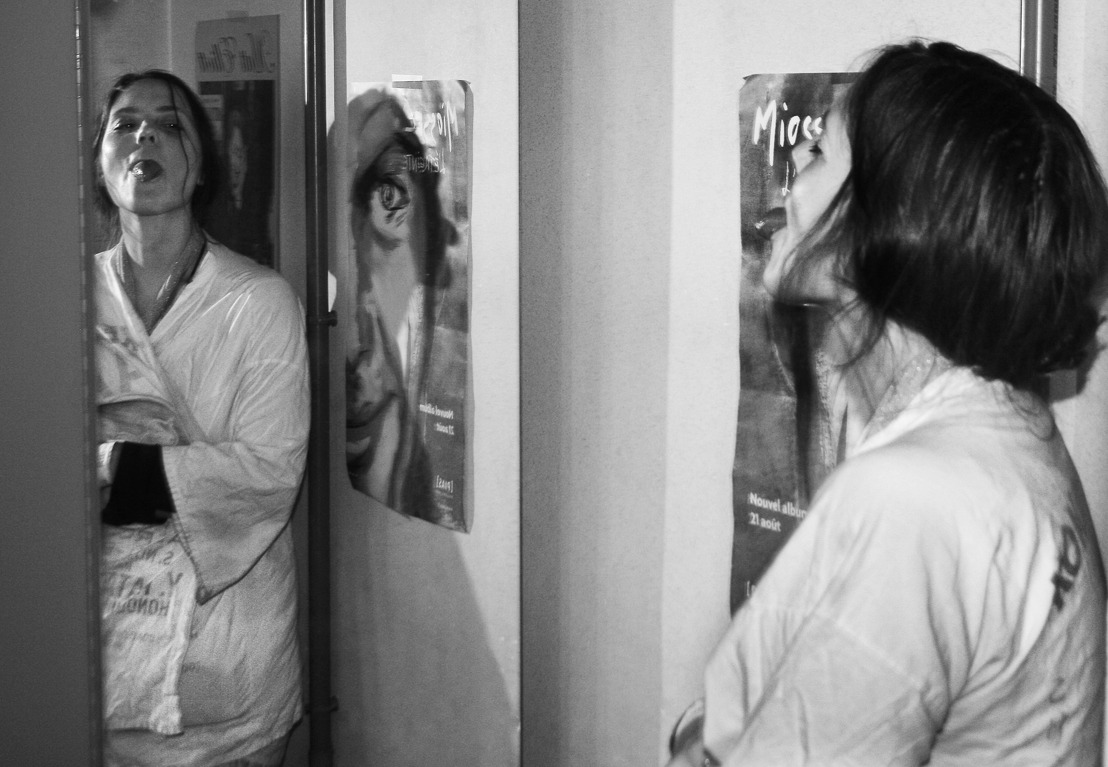 Upcoming Music - Spring 2016
Nose Job, Damien Dubrovnik, Baio, KRAAK FESTIVAL ft. 75 Dollar Bill, Scout Niblett, KSIĘŻYC, Hermann Nitsch,.., Jazzeux curated by LEFTO & Lander Gyselinck, FEWS, Bohren & Der Club Of Gore,....
Thursday, February 4, 2016 — We hope to welcome to welcom you at one of these cocnerts, or any other event in Beursschouwburg. For more information, accreditations,... please contact Yasmina Boudia (yasmina@beursschouwburg.be - 02 550 03 62).
Image: Scout Niblett (UK)- 12/04
Fr 5.02, 22:00: Stikstof (BE) + Roméo Elvis (BE) + Gerard Franz + Deejay Vega + UMI
As part of the opening weekend of You Ain't Seen Nothing Yet - !! SOLD OUT !!
Sa 6.02, 22:00: NOSE JOB with Syracuse (FR) + Mittland och Leo (BE) + Nosedrip (BE) + Rick Shiver (BE)
As part of the opening weekend of You Ain't Seen Nothing Yet - €5 more info & tickets
Mo 8.02, 21:00: Black Box VI: Drift (UK)
This is the fifth concert in our black box series. Small, black and very limited capacity.
€5 more info & tickets
Fr 12.02, 21:00: Damien Dubrovnik (DK) + Cremation Lily (UK)
The Danish electronic duo of Christian Stadsgaard and Loke Rahbek (Lust for Youth, Croatian Amor) are legendary for their chaotic live performances and the various associated bodily fluids that present themselves therein. €5 more info & tickets
Sa 13.02, 22:00: SupAfly Collective (BE) invites Ngoc Lan (CH) - DJ set
SupAfly Collective is very happy to host exclusive DJ sets at BeursKafee.
For this first event, the collective will share the decks with Dj Ngoc Lan coming straight from Switzerland. Expect groovy vibes with a female touch all night long! free
Sa 13.02, 22:00: I/O with Synkro (UK/DE) + Illum Sphere (UK) + Palsembleu (BE) + Shades (BE)
with: Mentality AkA [MNTL] & deMens.nu. €12/8 more info & tickets
Su 14.02, 15:00: Origami Classics: 4 saxos, 1 piano & 1 painter
The music of Michel Lysight interpreted by the Scarbo Quartet, and combined with a projection of a video by Belgian artist Serge Goldwicht, the perfect way to enter a poetic experience based on music and arts. €15 more info & tickets
We 17.02, 20:30: Sango (US) + SPZRKT (US)
Sango is a Seattle-born, Michigan based producer who is most known for his remixes of Aaliyah, Drake, Little Dragon, Nas, The Weeknd, and now his debut album 'North'. Currently signed to Los Angeles record label Soulection, and music collective AGO. SPZRKT (Spazzy Rocket) is just as his name suggests; unpredictable and going where most can't. Genre by genre, the 25yr old singer is here to challenge how one artist "should" make music. !!SOLD OUT!!
Th 18.02, 20:30: Baio (US) + Moonlight Matters (BE)
Chris Baio has been best known as the bass-player in Vampire Weekend, but recognized in himself an increasing restlessness, a desire to explore his own individual voice away from the band. Moonlight Matters is coming from the same little environment as Soulwax, and having had the pleasure remixing big rollers as Adele, Charlotte Gainsbourg, Lana Del Rey, Ellie Goulding, Mark Ronson and Metronomy amongst many others. €13/10 more info & tickets
Fr 19.02, 20:30: Live Fast Die Young (BE) Showcase with Crowd of Chairs, Maze, Youff, 30.000 Monkies, Rumours & Movoco
In six short, honest sets, six bands will meet you, understand you and join you. They have nothing to prove. And neither do you. Some will call it escapism. We'll just leave it to coping. It's an encounter with the artists on the LFDY roster, a Ghent-based booking agency. Plus an exclusive guest appearance. €13/10 more info & tickets
Fr 26 - Su 28.02 KRAAK FESTIVAL
Che Chen (US), Timeless Reality (DK),Yeah You (UK), Volmacht (BE), Ilta Hämärä (BE), DJ Kerm (BE), KSIĘŻYC (PL), Mark Fell (UK), Lino Capra Vaccina (IT), 75 Dollar Bill (US), Tree Legged Race (US), Shetahr (BE), Widt (PL), Viper Pit (BE) , Au Bout De Mon Sang (FR), Guttersnipe (UK), Coàgul (ES), Carrageenan (BE) , DJ Mark Harwoord (AU) & Hermann Nitsch (AT) - Friday: €15 / Saturday: €30 / Sunday: €20 / Combi: €45 more info & tickets
Th 3.03, 20:30: [PIAS] NITES: Témé Tan (BE) + Few Bits (BE)
Temé Tan, Belgian with Congolese roots, Tanguy Haesevoets tells intimate stories with a über-modern pop vibe, mixing soul, hip hop and afro elements. Simply gorgeous. €13/10 more info & tickets
Fr 4.03, 20:30: [PIAS] NITES: M o n e y (UK) + FEWS (SE/US)
€13/10 more info & tickets
Su 12.03, 20:30: KaS Product (FR) + support
Formed in 1980, KaS Product established themselves with their frosty combination of claustrophobic jazz and minimalist, disjointed dance rhythms, stark, exaggerated vocals that match the best electro-cabaret kitsch offerings. Could best be compared with works by Lizzy Mercier Descloux, Taxi Girl and Joy Division. €5 more info & tickets
Tu 15.03, 20:30: Vök (IS) + Sonøren (BE)
Vök is a dream-pop/indie-electro band from Iceland. Vök's sound mixes wistful electronics and melodic vocals, distant saxophones and reverberating guitars. Sonøren's music is a universe of subterranean drones, errant clicks and melancholic atmospheres. €13/10 more info & tickets
8 & 9.04 JAZZEUX 2016 curated by LEFTO & Lander Gyselinck
more info soon
Tu 12.04, 20:00: Scout Niblett (UK)
Scout Niblett is known for her intimate live shows and her blond wig while performing. Her music is frequently minimalist in style, many of her songs consisting merely of vocals accompanied by either drums or guitar, which she mostly plays herself. €10/13 more info & tickets
Tu 12.04, 20:00: The KVB (UK) + Dear Deer (FR)
post-punk. €15/12 more info & tickets
Fr 22.04, 22:00: Hangman's Chair (FR) + Hemelbestormer (BE)
Hangman's Chair aren't ones for candlelit dinners and compliments; their fourth album is an impenetrable slab of rueful melancholia. It's beautifully depressing, soulful and bleak. The four individuals behind earned Hemelbestormer their stripes in the past and have previously played throughout Europe and the States. €8/5 more info & tickets
We 18.05, Bohren & Der Club Of Gore (DE)
The doom of Black Sabbath, the jazz from Twin Peaks, the asphalt in the Ruhr area by night. The German quartet Bohren & Der Club of Gore plays elongated, intoxicating doom jazz instrumentals that have never been touched by daylight. €15/12 more info & tickets