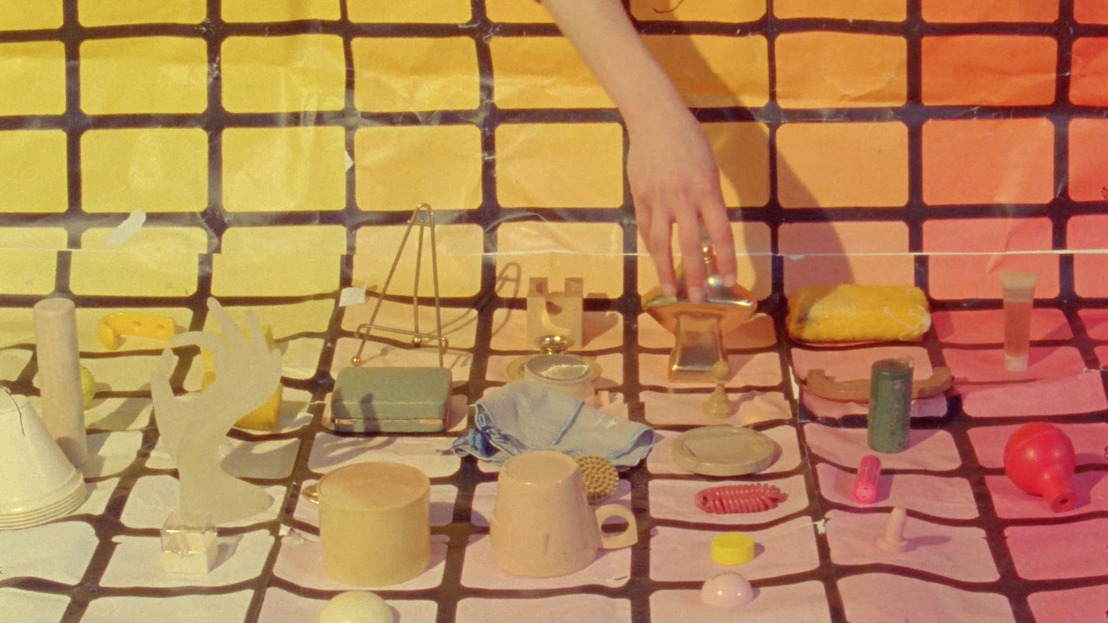 Upcoming Audiovisual Arts in Beursschouwburg
Effi & Amir, Wim Catrysse, Revital Cohen & Tuur Van Balen, Isabelle Tollenaere, Rikrit Tiravanija & Karl Holmqvist, Katja Mater, Herman Asselberghs, Myriam Van Imschoot, Nina de Vroome, Edurne Rubio + Black Box Screenings + Mural Beurscafé by Helgi Thorsson
Thursday, January 11, 2018 —

Beursschouwburg and programmer Helena Kritis are happy to present you the film, video and visual arts programme for the upcoming months. As usual, we will be presenting a programme with single screenings featuring, amongst others, artist films by Rirkrit Tiravanija, Isabelle Tollenaere and Wim Catrysse and installations by Katja Mater and Herman Asselberghs.

The weekly looped screenings in Beursschouwburg's Black Box will be presenting work by e.g. Sara Cwynar, Monira Al Qadiri, Erkka Nissinen & Nathaniel Mellors and Korakrit Arunanondchai.

We're also glad to be presenting a new mural in the Beurscafé by the Icelandic artist Helgi Thorsson.

Image: Sara Cwynar US, Soft Film (Black Box screening on February 2nd and 3rd)

SINGLE SCREENINGS & INSTALLATIONS

Wed. 7 February
Effi & Amir BE - Sous la douche, le ciel
documentary - Avant Premiere - more info

Five years in the making, the start-up of DoucheFLUX unfolds as a real nail biter.

Thu. 8 February
Wim Catrysse BE - Outpost
documentary, artist film - Belgian Premiere - more info

Digging ever deeper, a dark perspective on a society which has reached a terminal industrial stage.

Sat. 10 February
Revital Cohen IL & Tuur Van Balen BE - Not An Inch Of These Grounds Is Neglected
audiovisual lecture - more info

Screening, performance lecture and panel talk about connections between China and Africa, situated artistic production and artisanal mining in East Congo.

Wed. 21 February
Visite Film Festival - Opening Night
screenings - more info

Political, experimental and documentary cinema. w/ Het Bos
Programme: John Smith UK, Hotel Diaries, 2001- 2007, 82' I Peter Kubelka AT, Unsere Akrika Reise, 1966, 12'

Fri. 9 March
Isabelle Tollenaere BE - The Remembered Film
artist film - Belgian premiere - more info

War memories told by young soldiers. About the friction between imagination and reality.

Wed. 14 March
Tumbleweed #2 with a.o. Nina de Vroome
screenings - more info

Films by young filmmakers! Hosted by associated artist Christina Stuhlberger.

Wed. 21 March
Rirkrit Tiravanija US/DE/TH - Karl's Perfect Day
artist film - Belgian Premiere - more info

A day in the kooky life of the enigmatic artist Karl Holmqvist as seen through his friend Rirkrit Tiravanija's eyes.

Wed. 21 - Sat. 24 March
Herman Asselberghs BE- Watching Words Becoming A Film
installation - more info

Questioning the borders between word and image, media and the world, cinema and politics.

Wed. 21 - Sat. 24 March
Katja Mater NL - As Much Time As Space
installation - more info

A wandering narrative exploring tables, stairs, the perception on space and time, colour and some van Doesburg heritage

Thu. 5 April
Myriam Van Imschoot BE - Portrait YOUYOU
documentary, artist film - more info

A diverse group of women envelop you as they practice the shrill Zachareet.

Wed. 18 April
Edurne Rubio BE/ES - Ojo Guareña
documentary, artist film - Avant Premiere - more info

A speleological journey from prehistoric Spain all the way to that country's darkest days during the Franco regime.

Wednesday - Saturday, 12:00 - 22:00, free

In the tiniest space in Beursschouwburg, we show a different film each week. You can watch al the movies for free and without making a reservation.

Fri. 2 & Sat. 3 February
Sara Cwynar US - Soft Film
more info

Colourful, tactile & caring: Sara Cwynar's quirky collection of vintage eBay purchases put to film.

Wed. 7 - Sat. 10 February
Pia Borg MT/AU - Silica
more info

A film location scout explores an Australian opal-mining town in this essay film laced with sci-fi.

Wed. 14 - Sat. 17 February
Monira Al Qadiri KW/LB - The Craft
more info

Pop culture, futuristic architecture, junk food, dream readings, alien abductions, geopolitics, diplomacy, war and peace....

Wed. 21 - Sat 24 February
Chen Zhou CN - Life Imitation
more info

Chatroom threads, sexting and futuristic Grand Theft Auto scenes reveal the loneliness of Chinese kids.

Wed. 14 - Sat. 17 March
Erkka Nissinen FI & Nathaniel Mellors UK - The Aalto Natives
more info

Absurdist satire on the origins of (Finnish) culture, told by a kooky ensemble of animatronics.

Wed. 21 - Sat. 24 March
Mario Pfeiffer DE - Corpo Fechado
more info

A healer with extraterrestrial powers, a religious 'Candomblé' leader, and a writer of a post-religious manifesto are testing our faith.

Wed. 28 - Sat. 31 March
Ane Hjort Guttu & Daisuke Kosugi NO/JP - The Lost Dreams of Naoki Hayakawa
more info

Art director Naoki loses himself in a magic dream world to cope with his 16-hour workdays.

Wed. 4 - Sat. 7 April
Léandre Bernard-Brunel FR - Vetal Nagri
more info

Ghostly manifestations roam the streets of Vadodara (India), and the lives of its inhabitants.

Wed. 11 - Sat. 14 April
Korakrit Arunanondchai US/FR/TH - with history in a room filled with funny names 3
more info

The artist himself performing as the fictional character of a young Thai denim painter called Chantri.

Wed. 4 - Sat 21 April
Enrique Ramirez CL/FR - Un Hombre que Camina
more info

In an unknown place where land and sea are merging into one, an imaginary man is walking between life and death.

MURAL BEURSCAFE BY HELGI THORSSON

2 February - 31 May
Vernissage: Fri. 2 February,19:00

Every six months an artist is invited to do 'something' with the white wall in the beurscafé.

In the spring of 2018, that artist will be Helgi Thórsson. Born in Iceland in 1975, he now lives in Antwerp. Thórsson's work is characterized by its raw, seemingly awkward finishing, a varnish of eccentric colours, bizarre humour, cheesy nostalgia and the righteous conviction that art can bring about something important in its viewers. Knowing this means that we can already anticipate the spring of 2018 as a colourful feast for the eye!

His predecessors in creating works for the wall are Jóhanna Kristbjörg Sigurðardóttur, Fiona Mackay, Julien Meert, Denie Put, Nel Aerts, Atelier Pica Pica, Michaël Van den Abeele and Céline Butaye.