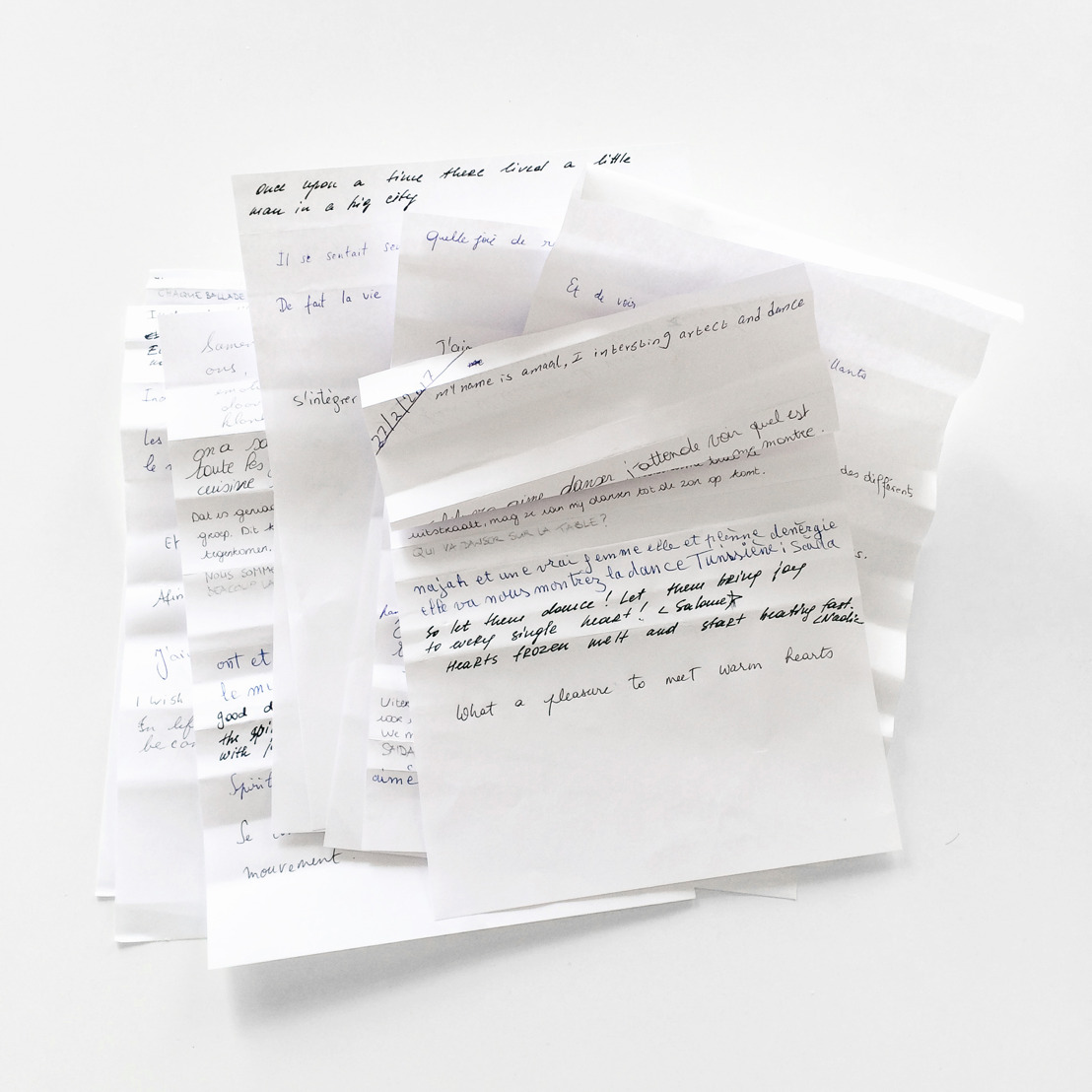 Hana Miletic & Globe Aroma - txt, Is Not Written Plain
Public presentation as part of The Big Conversation on feminism.
Thursday, November 30, 2017 — Globe Aroma is an open arts centre in Brussels, where newcomer artists and the art world come together. Every year, Globe Aroma invites a professional artist for a residency. The artist completes an artistic trajectory accompanied by a diverse group of participants. This year Globe Aroma and visual artist Hana Miletić collaborated on the project txt, Is Not Written Plain.
Public presentation on Saturday December 16: free entry. Preceding The Big Conversation on feminism, a debate night with a array of opinion leaders on the crucial question: 'why feminism is still a compelling issue today?'. As part of the focus programme The Future Is Feminist.
Hana Miletić has been working at Globe Aroma with a group of females since the beginning of 2017. They have been meeting up on a regular basis for a series of text and textile workshops, which they have shaped together. During these workshops, they shared their experiences spanning several generations, broadened each other's perspectives and expanded each other's testimonies.
In that time, text became a material compiled by many hands, stitched together and frayed apart with tenderness and care. Textileprovided the group with the time they needed to consider the metaphorical meaning of it in society with attention and feeling.
With the participation of Amal Abdirahman, Mimouna Amri, Nadia Baykova, Salome Grdzelischvili, Chantal Gyselinx, Bouchra Lamsyeh, Soumaya Mahroug, Muna Muriidi, Shurouq Mussran, Françoise Nibagwire, Shilemeza Prins, Marie-Ange Sibi, Larisa Utesheva and Ifrah Yusuf.
Hana Miletić was born in Zagreb (1982), she lives and works in Brussels and Zagreb. In her work she explores the residues and upheavals of political changes, whereby she focuses on the formation of subjectivity, on the level of both the individual and the community. She describes her artistic practice as street photography via which she documents objects and narratives in a continuous investigation into DIY cultures. Photography serves as a means of orientation in her ongoing exploration of social realities. She has a multiform practice that includes, among others, sculptures, textiles, performances, workshops, printed matter and writing. Hana Miletić is also an associated artist at Beursschouwburg.
In the open arts house Globe Aroma, newcomers and refugees with artistic ambitions are given the opportunity to express themselves and develop further. Each year, long-term hands-on art projects are set up in collaboration with professional artists. The audience from Globe Aroma participates in these projects, along with locals. This has already resulted in theatrical performances such as 'Capsaicin' (collab. Michiel Soete - 2016, co-production Kaaitheater) et 'De Brievenschrijver/Letter Home' (collab. Simon Allermeersch - 2015, co-production Kaaitheater), a movie, 'BXL-Nord' (with Jan Geers and Jamal Boukhriss - 2013, collab. LDC De Harmonie). Through December 22, the public can also visit the group exhibition Untitled Human Space, uniting six photographers with a different background and frame of reference, in de spaces of Globe Aroma. Globe Aroma is embedded in a wide network of partners, such as Beursschouwburg, Kaaitheater, bon ( he Brussels reception agency for integration), Petit-Château / Klein Kasteeltje (Fedasil) and Kunstenfestivaldesarts. More information on Globe Aroma is available via this link (NL/FR).
☞ Le groupe de txt, Is Not Written Plain will participate in a conversation with the audience from 6 pm onwards during The Big Conversation on feminism. Tickets: €10 (price for everyone who feels priviliged) - €0 (for those who don't feel priviliged). Buy your tickets here.