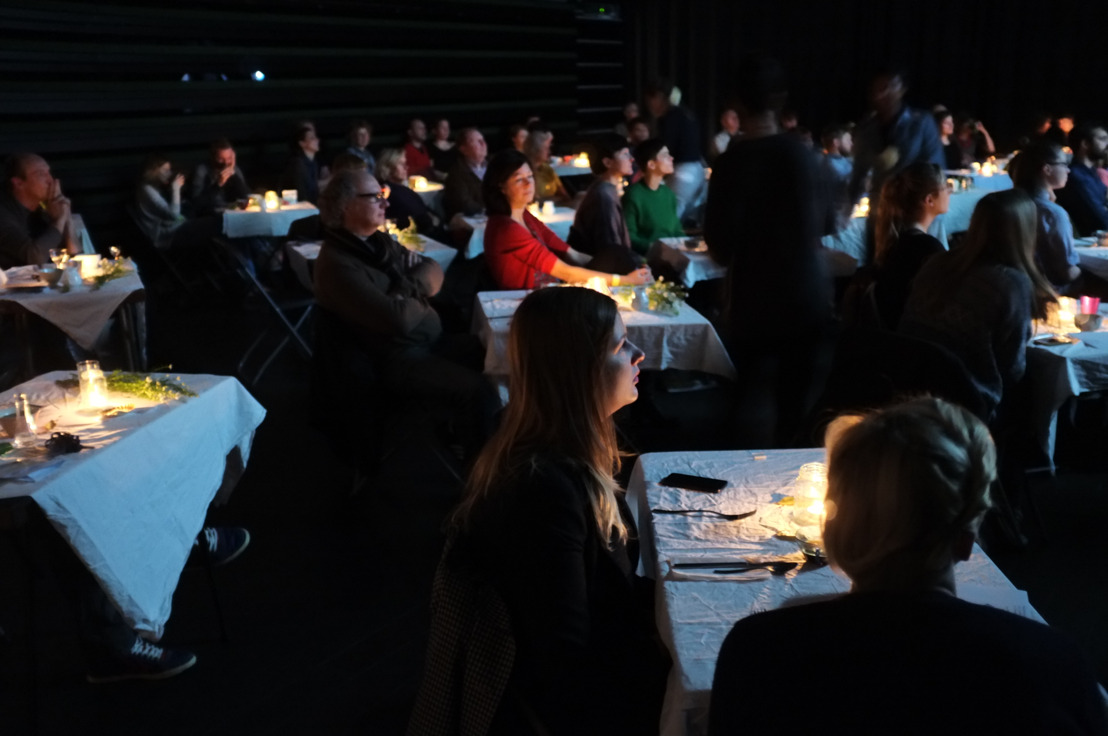 Spring 2015 - Upcoming screenings at Beursschouwburg
Davis Freeman, Sofa Cinema, Ruben Desiere, Auguste Orts, Hannes Verhoustraete, Okartino, Isabelle Tollenaere, Zéro de Conduite An Van. Dienderen & Elias Heuninck.
Tuesday, February 24, 2015 —
During Beurssc50uwburg, we'll be presenting - as ever - several (Belgian) premieres. But moreover, we're exploring the boundaries of film and video art: karaoke (Davis Freeman), a film dinner (Otarkino) and a private cinema at home from someone's armchair (Sofa Cinema).
Also, Argos - Brussels centre for arts and media - presents Fab50! Celebrating Beursschouwburg!: every week a different selection of works from their collection which have been co-produced and/or supported by Beursschouwburg. Check: argosarts.org.
Check the full programme:
Th 26.02 I 21:30 in beurskafee I free
Davis Freeman - Karaoke (ART)
Davis Freeman invited international video artists (Gary Hill, Johan Grimonprez, Tim Etchells, Antonia Baehr, Anouck De Clercq,...) to make a video for the 30 most popular (English) karaoke songs. The participating artists set to work with the music and the words.
Lovers of contemporary video art and fans of the light-hearted karaoke genre unite!
Th 5.03 I 20:30 I €8/5
Ruben Desiere - Kosmos & Hannes Verhoustraete - 28 Rue Brichaut
Kosmos: Up until November 2013, the Gesù convent in Brussels was home to around 250 people including a number of Roma families originating from Slovakia. Over the months leading up to their impending eviction, Ruben Desiere worked with a number of the inhabitans to create a film. Kosmos is loosely based on the book of the same name by the Polish author Witold Gombrowicz. It focuses on the family of Kevin Mroč who had been living at Gesù for three years, and also features two newcomers, Mižu Balász en Rastjo Vaňo.
BE, 2014, 61'
In 28 Rue Brichaut, Hannes Verhoustraete investigates different ways of looking at the future, in an attempt to trace the history of his house. This genealogy is an investigation into time as much as an attempt to map different experiences and memories connected to a specific space.
BE, 2013, 31'35"
Fr 6.03 I 20:30 I free
Auguste Orts - Sofa Cinema
Settle yourself in a sofa in front of the tv beloning to a magnanimous Brussels inhabitant. Hosts are making their personal selection from a wide film choice compiled by Auguste Orts, a Brussels production and distribution platform for audiovisual art projects.
Practicalities: Register via tickets@beursschouwburg.be. Join us at Beursschouwburg between 19:30 and 20:30, from where you'll receive your host's address. Bring a small gift and you're welcome.
Fr 13.03 I 19:00 I €15
Otarkino: Sud e Magia (film dinner)
'Otarkino' is a collaboration between film curator Vincent Stroep and food collective Otark Productions. Hadas Cna'ani and Charlotte Koopman are developing a menu based on visual elements, concepts and ideas from the selected film. This Friday the 13nd edition at Beursschouwburg presents a selection of short ethnographic documentaries by e.g. Luigi Di Gianni and Vittorio De Seta, on superstition and rituals in post-war Southern Italy.
Th 9.04 I 20:30 I €8/5
An Evening With Auguste Orts #10
During their 2006-2009 residency, the Auguste Orts members developped the concept 'An Evening with Auguste Orts'. Making imaginative use of the Gouden Zaal, they dressed 'eye and ear in a crafted collage of sound and image'.
We also want to have this concept in our 50-year-old midst once more: a collection of projections which find inspiration in possible relationships between landscape and countenance.
Fr 10.04 I 20:30 I €8/5
Isabelle Tollenaere - Battles - Belgian premiere
A bomb, bunker, tank, soldier – four archetypes of warfare – lead us through places in Europe where conflicts have occurred in the recent past. We discover the transformation of people, things and landscapes following demilitarization. An elderly man in a country inundated with bunkers, grotesque scenes of a prison camp at night, the final days of antiquated explosives, an army of women working on explodable artillery,…
BE, 2015, 90'
We 22.04 I 20:30 I €8/5
An van. Dienderen & Elias Heuninck - Exploring space, time and the image - premiere
Letter Home is a filmic letter about a journey to Japan. The film captures a physical transportation to a different cultural context on film and shows in what way consumer cameras guide this representation. The images merely show a digitalized deformation of the senses. Letter Home unites images of both the impressionist image-maker and the critical image-archeologist.
I'll be late for dinner is a sequence of archive images of the Cassini-project (Cassini is a space probe orbiting around Saturn). Everyone knows the iconic images of Saturn, but some images were never shown in the press. Scratches on the images, light in the lens or images made to direct the probe, shift the focus away from the photographed subject to the camera itself. Is it possible to be amazed by these images yet again? The experimental approach (in what way can we show the real importance of the images?) and seeking imagery match very well with the approach of Letter Home.
BE, 2015
Fr 30.04 I 20:30 I €8/5
Zéro de Conduite #3
In 2013 the documentary cinematographers Elias Grootaers, Olivia Rochette and Gerard-Jan Claes set up the production and distribution platform Zéro de Conduite. The name is a reference to Jean Vigo's 1933 eponymous film, a lyrical ode to youthful rebellion. Twice a year, Beursschouwburg asks them to curate a film programme and in 2014 they proposed an evening with music by Joachim Badenhorst and films by Johan van der Keuken as well as the beautiful Chuyen tu te (The Story of Kindness or How to Behave) (1985/1987) by the Vietnamese documentary maker Tran Van Thuy. Keep an eye on our website for the details of the april screening!