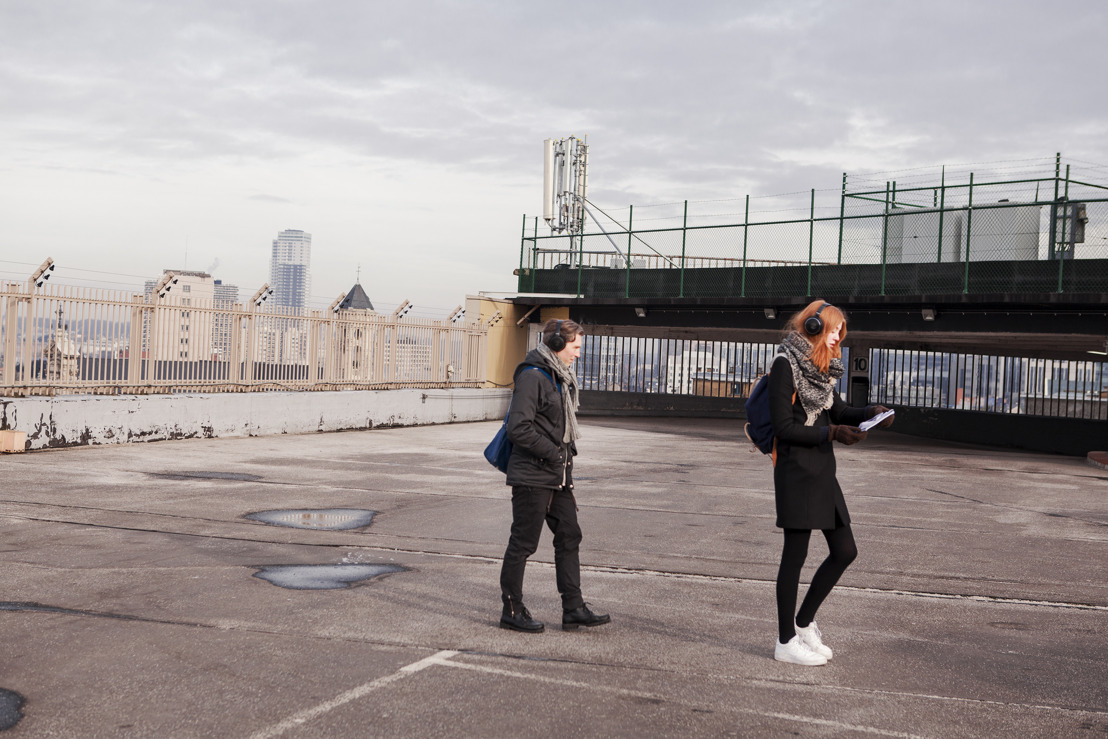 Someone Else / Ant Hampton - Brussels Tracks / David Helbich
Beursschouwburg for your ears
Tuesday, April 21, 2015 — As part of "Beurssc50uwburg. Under construcion since 1965" we're presenting two artistic projects that focus - as a starting point - on your ears: "Someone Else" by Ant Hampton/The Other People and "Brussels Tracks" by David Helbich.
This Saturday, 25 April, 15:00, both David Helbich and Ant Hampton will join us at Beursschouwburg for a meet & greet. We recommend that you try one of these audio-performances before.
Visiting the Kunstenfestivaldesarts? Beursschouwburg is - yet again - the festival's meetingpoint, so join us at the ticketoffice of Beursschouwburg where you can find the equipment and experience the work.
Foto: Veerle Frissen
Practical information:
Ongoing untill the end of May 2015
Mo-Tu: 10:00 - 18:00
We - Fri: 10:00 - 22:00, Sat from 12:00 / Please note: Friday May 1th, open from 19:00!
Register via tickets@beursschouwburg.be - price: €5
Ant Hampton / The Other People - Someone Else
In Someone Else, Ant Hampton mixes sincerity, confession and humour to explore a line of logic that would have you going up to a stranger and attempting to form a connection, 'from nothing'.
The work's provocation is two-fold, functioning both as (contemplation of) a dare, and as exercise for a particular kind of social imagination: what might result from a deliberate breaking out of your usual circles? Is it so difficult? And what role can art - or an art centre like the Beursschouwburg - play in such an encounter? Can we still be spectators, or does the situation call for a different kind of behaviour? Hampton's Autoteatro practice once more employs an advanced use of highly realistic, site-specific and 'binaurally' recorded audio, but this time extends its form beyond instructions towards something more like an open-ended assignment. It also adds and relates to his ongoing project, The Other People - structured encounters with people from outside theatre and art.
Concept & creation: Ant Hampton I Voices: Ana Wild, Diederik Peeters I Research: Lien Craps I Assistance: Hanne Libbrecht I Creative production: Katja Timmerberg I Commissioned: Beursschouwburg I Thanks to: Sarah Vanhee, Christophe Meierhans, Katja Dreyer, Anna Rispoli, David Helbich, David Weber-Krebs, Bart Capelle, Britt Hatzius, Richard Gregory.
Practicalities: Book a slot with someone you know. Register via tickets@beursschouwburg.be (€5 / 2 persons)
Slots starting every 30 minutes.
David Helbich - Brussels Tracks
We've all seen them: people wearing headphones, wandering the streets in a hurry or calmly. German composer and artist David Helbich releases you into the city, armed with an MP3-player and earphones. Different 'tracks' are developed for different locations in the city.
The difference with your fellow isolated people in headphones? During this audio walk you're more than just another invisible city slicker with music in your ears. Something is expected of you: each track is accompanied by a sheet with instructions on 'how to listen'. Afraid you'll feel like a complete nutcase when you systematically turn your head from left to right or when you keep your hands to your ears? With companions, your behaviour will be perceived differently and become a true performance!
Between 15' and 120' I Layout: Miriam Hempel (daretoknow) I Headphones: Festival van Vlaanderen Kortrijk I In English
German composer and artist David Helbich has been living and working in Brussels since 2002. He composes music and makes installations, writes texts and creates composed walks through various cities. Walking past Beursschouwburg, you will no doubt notice the mangled letters of Beursschouwburg on the facade. This work, entitled What People Say, is made by Helbich. David Helbich previously made Tracks for Bergen (NO), Courtrai, Maastricht and Riga. Now, it's Brussels' turn!