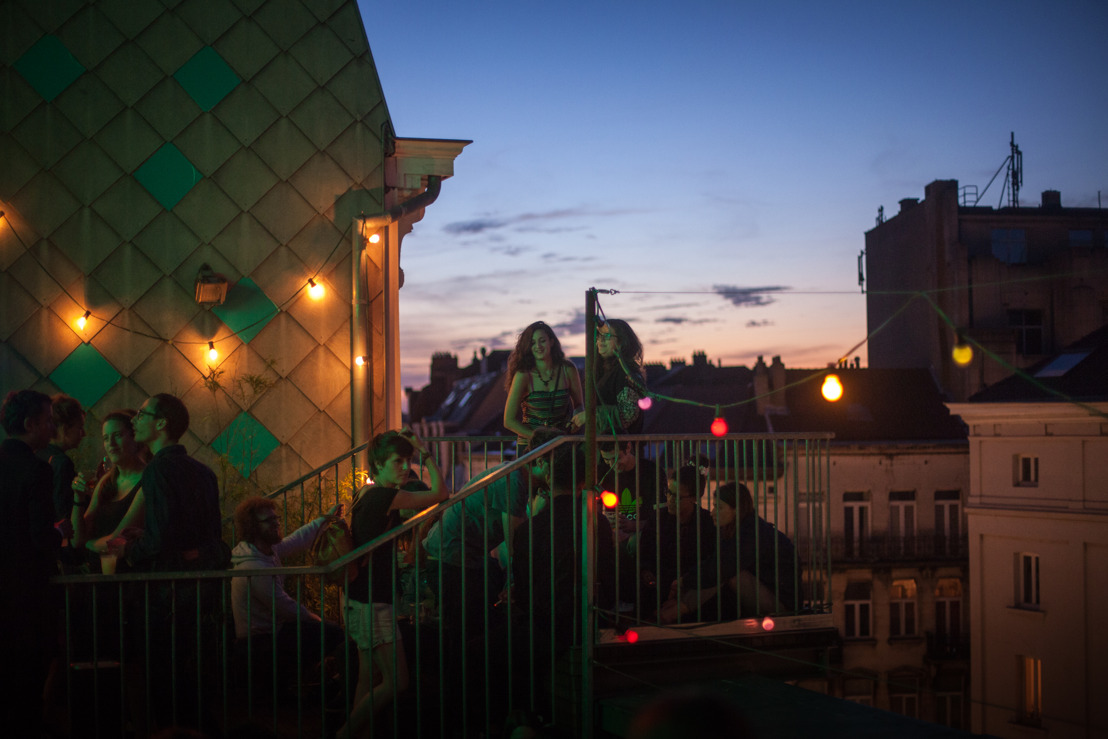 Program Out Loud 2015!
3 through 28 June 2015 - apéro - screenings - concerts - DJ's high up Beursschouwburg's rooftop terrace
Wednesday, April 29, 2015 — Beursschouwburg is celebrating the end of a packed cultural season with Out Loud!. For a whole month, we are inviting everyone onto the roof terrace with its adjacent bar and silver room. In the evening we will be screening films and dancing to live music. In the afternoon we open our doors for lunch with a picnic.
The upcomping edition of Out Loud! doubles as the grand finale of the celebration of Beursschouwburg 50th anniversary. From Febraury onwards all activities in and by Beursschouwburg were dedicated to this 'golden jubilee'. The two last days, June 27 & 28, of this year's Out Loud! are titel: "50 = Over & Out". Expect in- & outdoor concerts, a vinylmarket, a car free street in front of Beursschouwburg and an old school Beursschouwburg vibe.
De rest van de maand juni is Out Loud! zoals vanouds: muziekfilms, concerten, apéromomenten, en picnics op het dakterras en in de overdekte Zilveren Zaal. Met dit jaar een nieuwe categorie: "Out Loud! Extra", een randprogramma, als het ware.
The rest of the month is Out Loud! as usual: screenings, concerts, apéro-time and picnics at Beursschouwburg's rooftop terrace and 'Zilveren Zaal'. With a new categorie: Out Loud! Extra, featuring a garage sale, lectures and presentations.
OUT LOUD! FILM
On Wednesday and Thursday evenings (from 22:30) the rooftop terrace is transformed into an open-air cinema. With eight music documentaries, full-length films and concert recordings we're plunging into the eighties
We welcome bodybuilding, monokini & aerobics, MTV, video cassettes, home computers, compact discs, hiphop, rap, scratch, breakdance & graffiti, afrobeat, postpunk & gothic rock, new wave, synthpop and the Brittish new romantic scene. And welcome you, spectator, for a splendid night!
We 3.06, 22:30 - WILD STYLE, Charlie Ahearn (US, 1983, 83'). The best 'old school 'hip hop film ever made.
Th 4.06, 22:30 - FELA KUTI: MUSIC IS THE WEAPON, Stéphane Tchalgadjieff & Jean Jacques Flori (FR, 1982, 53'). On Fela, the "black president" and father of the Afrobeat.
We 10.06, 22:30 - THE DECLINE OF WESTERN CIVILIZATION PART I, Penelope Spheeris (US, 1981, 100'). A unique inside view on the hardcore punk scène in the early '80 in Los Angeles.
Th 11.06, 22:30 - THE DECLINE OF WESTERN CIVILIZATION PART II: THE METAL YEARS, Penelope Spheeris (US, 1988, 93'). A hedonistic freakshow on the heavy metal subculture.
Wo 17.06, 22:30 - BRAND NEW DAY, Amos Gitai (FR/UK, 1988, 93'). Fantastic documentairy onthe tour of Eurythmics through Japan.
Do 18.06, 22:30 - STOP MAKING SENSE, Jonathan Demme (US, 1984, 88'). A concertmovie on Talking Heads, balancing between a concert and an artistic performance.
Wo 24.06, 22:30 - ROCK & RULE, Clive A. Smith (CA, 1978, 77'). An 'old school' animated film spiced with '80 punk and new wave cheesiness.
Do 25.06 - 22:30 - XANADU, Robert Greenwald (US, 1980, 96'). Pure glitter disco RollerMadness!
OUT LOUD! MUSIC
This year, we're also inviting other companies and musical relatives to let their creativity run free on our roof terrace: Vooruit (Ghent), Stuk (Leuven), Eden (Charleroi), De Kreun (Kortrijk), Incubate (Tilburg, NL), Mad About Music (Brussels) and Alpage (Lille, FR). We're very eager to see how they'll put a spin on our intimate city festival, five stories high
Fr 5.06 - Mad About Music / Brussels:
19:00 Apéroconcert Empti Taxi (BE) - ready-to-travel electrons
22:00 Princess Chelsea (NZ) - magic pop
00:00 DJ The Wild

Sa 6.06 - Eden / Charleroi
22:00 Haring (BE) - melotronica
23:00 Holy Strays (FR) - dusky beats
00:00 DJ Rick Shiver
Fr 12.06 - Alpage Records / Lille
20:00 Prieur De La Marne (FR) - pop treasure mastermind
22:00 Ext'Int (BE) - elegant freshness
23:00 Black Bones (FR) - kaleidoscope rock
00:00 DJ Alpage Acid Crew
Sa 13.06 - Vooruit / Ghent
22:00 Zun Zun Egui (UK) - overdrive groove
00:00 DJ SebCat

Fr 19.06 - Stuk / Leuven
19:00 Numen (BE) - Live hoptronic
22:00 Berlin Current (DE) - the new sound of Berlin
feat. Soda Plains, Amnesia Scanner, Kablam & M.E.S.H.
Sa 20.06 - Incubate / Tilburg
17:00 Angstgegner (NL) - punk
17:50 Nervous Mothers (BE) - powerviolence
18:40 Sex Drive (NL) - hardcore punk
19:30 Mind Rays (BE) - psych primitive punk
20:20 GALG (NL) - doom noise
21:10 Cocaine Piss (BE) - punk curst de La Meuse
22:00 Ggu:ll (NL) - hypnotic drooning Doom
23:10 Daggers (BE) - ruthless and vicious
00:00 DJ In Dogs We Trust
Fr 26.06 - De Kreun / Kortrijk
19:00 ISAAC (BE) - noise means never
22:00 Beak (UK) - nu kraut trio
00:00 DJ-set HELTER SKELTER
Sa 27.06 - 50 = Over & Out
Zilveren Zaal: Rooftop terrace open from 17:00 - FREE
22:00 Blondie Brownie (BE)
24:00 Brutus (BE)
02:00 BRNS (BE)
Gouden Zaal: 22:00 | All Nighter with LEFTO & special guest Jordan Rakei
Lefto presents an allnighter with Jordan Rakei as special guest. Lefto and Rakei bring the music, we bring the confetti and you are most welcome to join us. No Lefto = No party at Beursschouwburg. €12 - 15
Zo 28.06 - 50 = Over & Out
In the Auguste Orts street: concerts, vinylmarkt, bar.... Programme t.b.c.
OUT LOUD! ROOFTOP TERRACE
Mo - Fr, 12:00 - 14:00: picnic on the rooftop terrace. Don't forget: BYO food & drinks!
We - Sa, from 17:00 apéro on the terrace, with live music on Friday.
OUT LOUD! EXTRA
Sa 6.06, from 14:00: Garage Sale. One man's trash is another man's treasure. nd.
We 10.06 - Sa 10.06: Wij zijn handelaars. Shop/work. Trainees turn in to traders and install a Shop/Work in collaboration with Beursschouwburg and the neighbourhood. wijzijnhandelaars.wordpress.com
Do 11.06 - 20:30: FuckUp Night. A monthly event where entrepreneurs talk about their biggest professional or business failure.
Vr 12.06 - 17:30: StadsSalonsUrbains. A meeting point for urbanities - lecture.
Vr 19.06 - 9:00 Creative Mornings. A monthly breakfast lecture series for creative types.
Thanks to: Vlaamse Gemeenschap, Stad Brussel, VGC, Brussels Hoofdstedelijk Gewest, Humo,De Nationale Loterij, Sabam, Marriott, Agenda, Brussel Deze Week, TV Brussel, FM Brussel, Klara, Cobra, Maes, Sabam for Culture and Vidi Square.
Princess Chelsea - The Cigarette Duet
Haring - Us (Official Video)
Chasm ~ Holy Strays [official video] w/ Ndoho Ange
Zun Zun Egui - Ruby (live video version)
Fela Kuti - Outtakes from Music Is The Weapon Documentary
The Decline of Western Civilization Part I
The Decline of Western Civilization Part II: The Metal Years
Dave Stewart (Eurythmics) & Ryuichi Sakamoto - Brand New Day
Talking Heads: Stop Making Sense Trailer