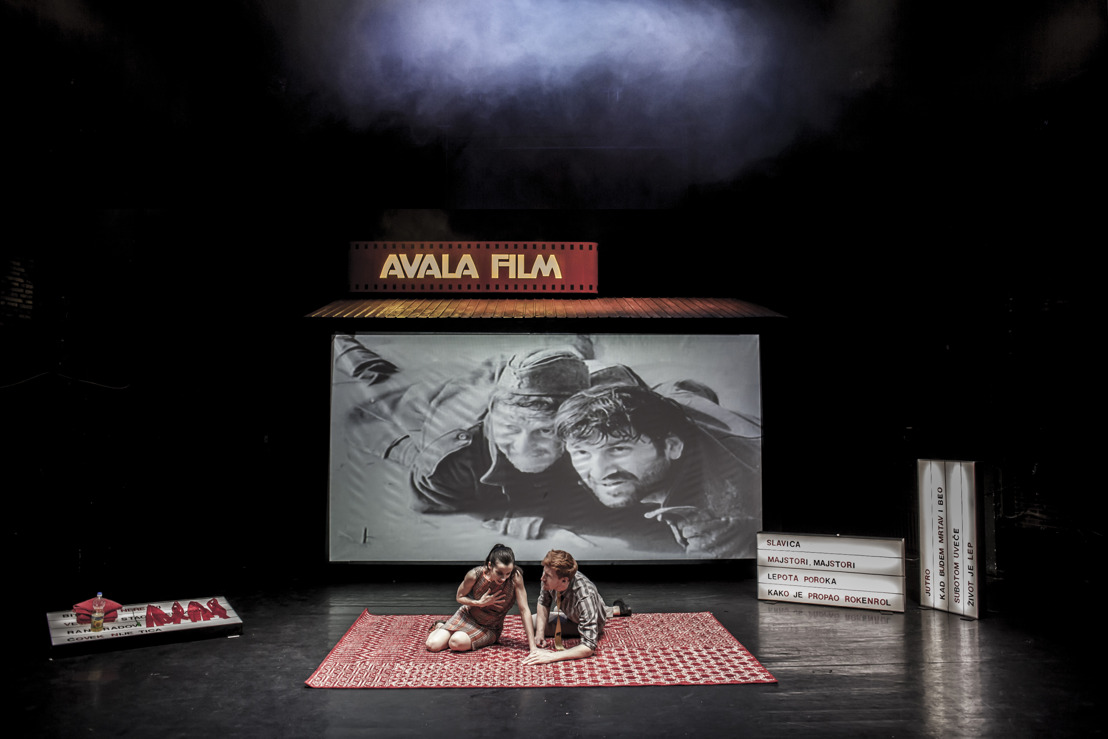 Performing Arts in October: Sanja Mitrović, Danae Theodoridou, Ant Hampton & Gert-Jan Stam, Louis Vanhaverbeke, Robbert&Frank Frank&Robbert
Monday, October 3, 2016 — Photo: Sanja Mitrović & Vladimir Aleksić - I Am Not Ashamed of My Communist Past - copyright: Marko Berkeš
All shows are presented in the framework of Come Together, a three month programme about coming together, being together and working together. Come Together focusses on sharing the experience of art, the power of masses, group dynamics and bringing people together. more info
Welcome!
Upcoming performing arts in October:
Fr. 7 & Sa. 8.10, 20:30
Sanja Mitrović & Vladimir Aleksić - I Am Not Ashamed of My Communist Past - theatre
SR sproken I EN subtitles - €14/11 - more info & tickets - BELGIAN PREMIERE
In I Am Not Ashamed of My Communist Past, the Serbian theatre maker Sanja Mitrović and actor Vladimir Aleksić take on the recent history of the Socialist Federal Republic of Yugoslavia (SFRY), a country that only still exists in our memory and our imagination.
Nonetheless, the fundamental idea of Yugoslavia – a multiethnic, multireligious and socialist state – is still relevant to today's European struggle.
It was this idea that brought childhood friends Sanja Mitrović and Vladimir Aleksić together, both of whom emigrated in 2001. Although Sanja still lives and works in Western Europe, Vladimir returned to Serbia to rebuild his life there. By using personal memories and images from Yugoslavian cinema, they not only reveal the story of Yugoslavia, but also their own. Together, they investigate whether it is possible to remain loyal to the ideas that they once believed in. What is it that unites communities that share the same country? What remains of values such as solidarity and social justice in times of materialism and individualism?
---
Th. 20 & Fr. 21.10, 20:00 & 22:00
Danae Theodoridou - One Small Step for a Man: Hello, Goodbye - performance
EN spoken - €9/6 - more info & tickets
In the 1970s, researchers sent a number of items into space, including messages from Earth to possible beings from other planets. These items also included a photograph of a naked man and a naked woman, a series of greetings in different languages, and sounds and music from our own planet.
One Small Step for a Man: Hello, Goodbye is an attempt to emphasize the irrationality of this act. The Greek artist Danae Theodoridou begins the performance with the materials that were sent into space.
In the performance, two performers and the audience sit around a table together. They confront us with how we visually conceive of our everyday lives and elicit a sense of alienation, in terms of what we had always considered self-evident. They challenge us to relive and reimagine life on our planet. Let us together rethink the present and the future!
+
Th. 20 & Fr. 21.10, ongoing between 18:00 and 22:30
Ant Hampton & Gert-Jan Stam - OK OK - autoteatro
Text available in NL and EN - free - more info
A minimalist comedy performance by the audience itself!
Not so very long ago, Ant Hampton was our guest with Someone Else, a performance in which members of the audience had headsets through which they heard a story and instructions. In OK OK, the audience splits into groups of four, each of which sits at a table somewhere in the Beursschouwburg to create a small comedy together. This time, it is not by way of a voice in your ears, but by following a script in which your text is indicated by a particular colour. By 'just reading', you discover as you go on how meaning and intent fall into place, with no pressure whatsoever to act or speak in any particular way.
Don't worry – no acting experience is required! The text in fact reflects the uncertainty that anyone would feel when they have to leave something aloud in a group. Everything falls into place all by itself.
The result is an amusing sense of the script actually behaving as a unique, 'living' thing, a text that is perhaps being written at the moment it is read aloud. This sensation increases as the performance develops, moving inexorably on to a surprising ending.
EXTRA: the performances by Danae Theodoridou and Ant Hampton & Gert-Jan Stam are shown on the same evening as the premiere of the Koen Theys' new video Serial Drummer Girls. In loop between 18:00 and 22:30. more info
---
Fr. 28 & Sa. 29.10, 20:30
Louis Vanhaverbeke - MULTIVERSE - performance
Language no problem - €9/6 - more info & tickets - collab CAMPO
In the beginning there was nothing 
and then that too exploded
.
In MULTIVERSE, Louis Vanhaverbeke is a multipurpose disk jockey. The beat is set through round speakers, but Vanhaverbeke is not a real rapper. He bounces arguments around, rips lyrics apart, collapses ideas into building sets. He pumps up the best hits, brushes off references until those ideas start to stutter, and we are swept into a brand-new dimension.
As he walks and sings, a living colour wheel emerges, arranged in gradations between statement and play. For the rest, the tool kit includes plastic buckets, frisbees, kitchen utensils and lots of other stuff. Can he escape from this tsunami of objects and words? Will he be sucked into all this mess? Or are these the perfect tools to help him stay with the flow? 


"The pluck is stuck, you idiot! 

- No, that's called scratching, dumbo."
+
Fr. 28 & Sa. 29.10, ongoing between 19:30 and 22:30
Robbert&Frank Frank&Robbert - Go Away Sorrow Of The World - installation / performance
Language no problem - free - more info - collab: CAMPO
The Ghent-based artist duo Robbert&Frank Frank&Robbert are currently working on a project, in which they are producing small wooden suitcases. The suitcases – the same size as hand baggage in airplanes – contain fold-out works of art and performances. In the Beursschouwburg, they will during the day unpack and set up the content of the suitcase with the title GO AWAY, SORROW OF THE WORLD. In the run-up to their new performance, we invite you to come and have a look at this budding new universe. The message of the work may seem naive, but it refers to the simple – and age-old – belief that with this text, like a mantra, one can effectively improve the world. Everyone who reads, thinks and speaks this text is sending something good out into the world.
During the evening, you can find Frank&Robbert on different spots in the building. They examine, on their own or sometimes in direct dialogue with the audience, images which are at the base of their preliminary investigation of their new performance WHY DON'T WE DESERVE GRAND HUMAN PROJECTS?. This performance is about the human and universal desire to be part of a bigger unity.