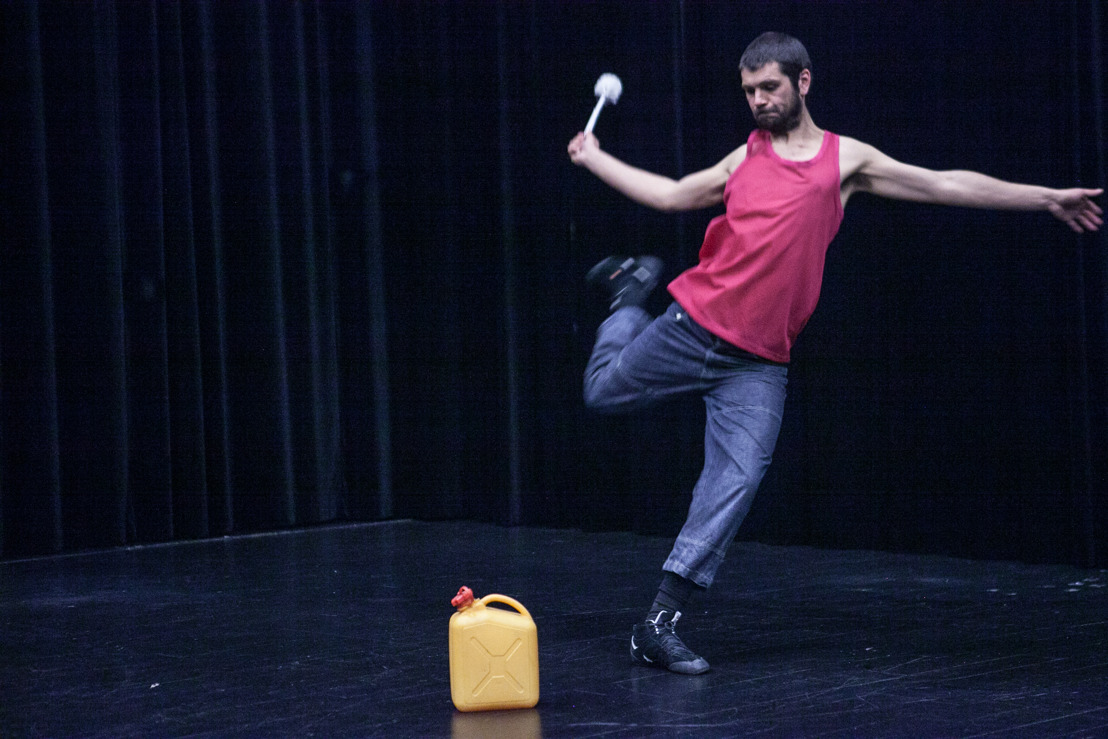 Performing Arts in November
Louis Vanhaverbeke + Robbert&Frank Frank&Robbert, Wu Tsang, Julien Fournet / l'Amicale de production
Tuesday, October 25, 2016 —
Image: Louis Vanhaverbeke, MULTIVERSE - 28 & 29.10 in Beursschouwburg. Photo: Radovan Dranga.
Fr. 28 & Sa. 29.10, 20:30
Louis Vanhaverbeke - MULTIVERSE - performance
Language no problem - more info & tickets €9/6 - collab CAMPO
In MULTIVERSE, Louis Vanhaverbeke is a multipurpose disk jockey. The beat is set through round speakers, but Vanhaverbeke is not a real rapper. He bounces arguments around, rips lyrics apart, collapses ideas into building sets. He pumps up the best hits, brushes off references until those ideas start to stutter, and we are swept into a brand-new dimension.
EXTRA: Louis Vanhaverbeke will become associated artist of Beursschouwburg for the period 2017-2021!
+
Fr. 28 & Sa. 29.10, before the start of MULTIVERSE
Robbert&Frank Frank&Robbert - Go Away Sorrow Of The World (work in progress)- installation
Language no problem - free - more info - collab: CAMPO
The Ghent-based artist duo Robbert&Frank Frank&Robbert are currently working on a new project: GO AWAY, SORROW OF THE WORLD. In the run-up to their premiere in March 2017, we invite you to come and have a look at this budding new universe. During the evening, you can find Frank&Robbert on different spots in the building. They examine, on their own or sometimes in direct dialogue with the audience, images which are at the base of their preliminary investigation of their new project.
---
2 - 5.11
Bâtard Festival: performance, video, film, ...
Full programme & day tickets: €10
With: Adina Secretan, Jaha Koo, Riley Harmon, Ilke Gers, Rob Jacobs & Anne Reijniers, Nadja Hjorton, Ogutu Muraya, Silke Huysmans & Hannes Dereere, Lulu Obermayer, Felix Mathias Ott, Bryana Fritz, Nestor Garcia Diaz.
Next week, Bâtard Festival will take over the Beursschouwburg for four days. Emerging artists and thinkers bring theatre, film, dance and performance. You get to know them during the artist talks. Food for thought will be served during lectures and at the presentation of the publication 'Performing in the age of performance, or how to do what we do relentlessly?' edited by Tom Engels (SARMA). Together with Kunstenwerkplaats Pianofabriek Bâtard presents three new productions. Underneath you find the festival programme per day.
---
Sa. 19.11, 21:30(!)
Wu Tsang and boychild, feat Patrick Belaga - You Sad Legend
 - performance
EN spoken - more info & tickets €14/11 (combi Pink Night party €17/20) - collab. Pink Screens
You Sad Legend is part of an ongoing performance collaboration between visual artist and filmmaker Wu Tsang and performance artist boychild, featuring experimental cellist Patrick Belaga. The performance combines operatic and nightclub sensibilities, exploring different modes of storytelling through an improvisational structure of voice, movement, and musical score. In it's current iteration, You Sad Legend takes inspiration from Tsang's recent film project Duilian, which queers the relationship between a famous historical Chinese revolutionary poet named Qiu Jin, and her intimate friend the calligrapher Wu Zhiying.
---
Fr. 25 & Sa. 26.11 I Fr. 2 & Sa. 3.12 I We. 7 & Th. 8.12, 20:30
Julien Fournet / l'Amicale de production - Amis, il faut faire une pause / Vrienden, het is tijd voor een pauze - conferences
FR/NL spoken - more info & tickets €9/6 - as part of On a préparé des spectacles, a mini-retrospective on the work of l'Amicale de production, collab. Beursschouwburg / Théâtre Les Tanneurs / Théâtre Varia / l'Amicale de production
Amis, il faut faire une pause is a "green school trip" - a philosophical and burlesque exploration encompassing our everyday actions: encountering our culture. Using our tools and in an unusual way, we try to rewire the perilous ties between art, ethics and politics with one resolution: making oneself available for new relations to things, works and events.
In addition to the performance, Julien Fournet will also present the publication Amis, il faut faire une pause. Classe verte du spectacle - a collaboration between l'Amicale de production, Beursschouwburg and Le Phénix, scène nationale Valanciennes.
EXTRA: l'Amicale de production is associated artist at Beursschouwburg for the period 2013-2016!
---
Save the date: Sa. 17.12, from 19:00
Closing Party Come Together
+ we say bye bye to our current associated artists and we welcome our new ones! Drinks, performance, spaghetti, DJ's, book launch,... More info soon!