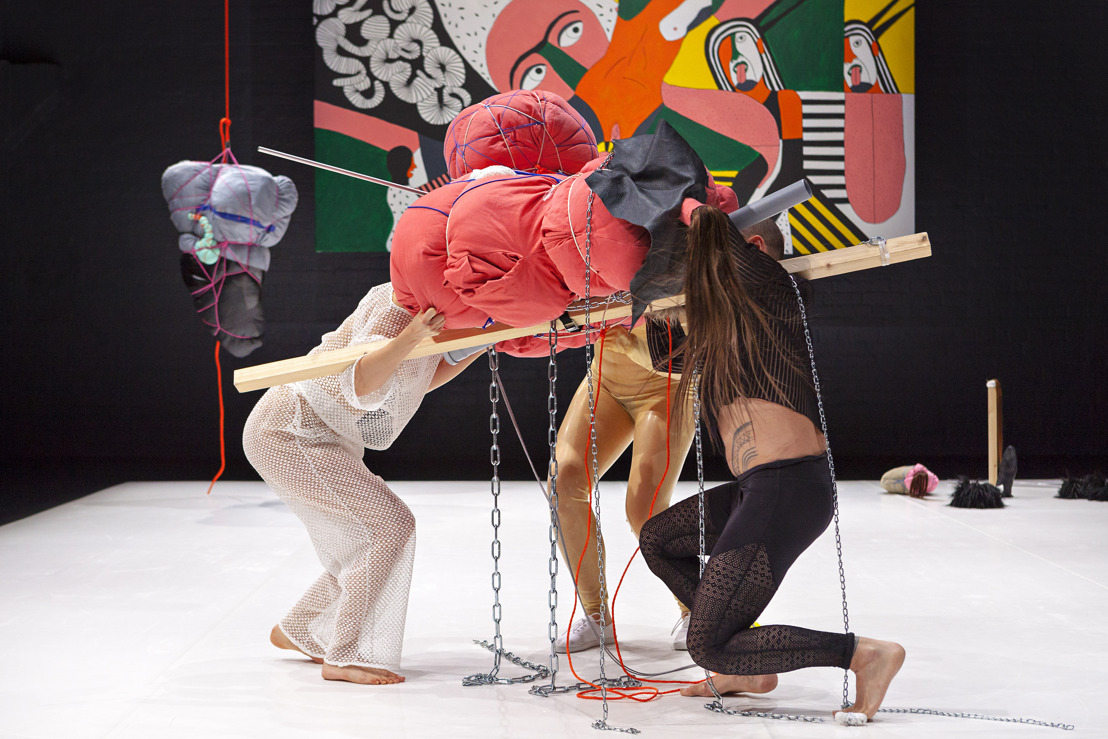 Performing Arts in March and April
Sonja Jokiniemi, Begum Erciyas, Rabih Mroué, Ana Borralho & João Galante and Jan Martens.
Tuesday, December 19, 2017 — Photo: Sonja Jokiniemi (FI) - Blab, Fri. 16 & Sat. 17 March (c) Simo Karisalo
Fr. 16 & Sa. 17 March
Sonja Jokiniemi (FI) - Blab
dance
Blab literally means chatter, chit-chat, meaningless talk. The Finnish dancer and choreographer Sonja Jokiniemi investigates the point where language falls short and humans become part of something non-human.
Fr. 23 & Sa. 24 March
Begüm Erciyas (TR) - Voicing Pieces
installation
Begüm Erciyas explores the political and poetic power of the act of speaking. In the intimacy of a soundproof booth, we discover a script whose words have to be deciphered out loud.
Fr. 23 & Sa. 24 March
SPOKEN WORD - Slam Poetry Night w/ Koleka Putuma (ZA), Jaamil Olawale Kosoko (NG/US), Louis Vanhaverbeke (BE) & Samira Saleh (BE).
Four wordsmiths join forces for one special evening. Samira Saleh is a rising star in the slam world of Brussels. Koleka Putuma represents the new generation female South-African poets. Jaamil Olawale Kosoko writes from the performance scene in New York and artist-in-residence at the Beursschouwburg Louis Van Haverbeke tinkers as much with words as he does with kitchenware in his performances.
☛ Voicing Pieces and SPOKEN WORD are part of the focus Poetry Is Not A Luxury, a four-day multidisciplinary delve into the extraordinary world of fascinating poetry practices and an ode to Audre Lorde's famous essay Poetry Is Not A Luxury.
Fr. 13 & Sa 14 April
Rabih Mroué (LB) - Sand in Eyes
lecture performance - Belgian premiere
Lebanese artist, filmmaker and performer Rabih Mroué investigates the visual politics behind IS recruitment videos.
Fr. 20 & Sa. 21 April
Ana Borralho & João Galante (PT) - Trigger of Happiness
performance
A group of young people from Brussels, about growing and becoming bigger, about finding themselves without losing themselves in compulsive behaviour – six, eating, games – or other intoxications.
Th. 26, Fr. 27 & Sa. 28 April
Jan Martens (BE) - Rule of Three
dance
A danced performance, in between a concert and a collection of stories. Rule of Three feels at the same time like the vibe of hardcode nightcluband and losing yourself in a book.
☛ As part of Dag van de Dans on 28 April