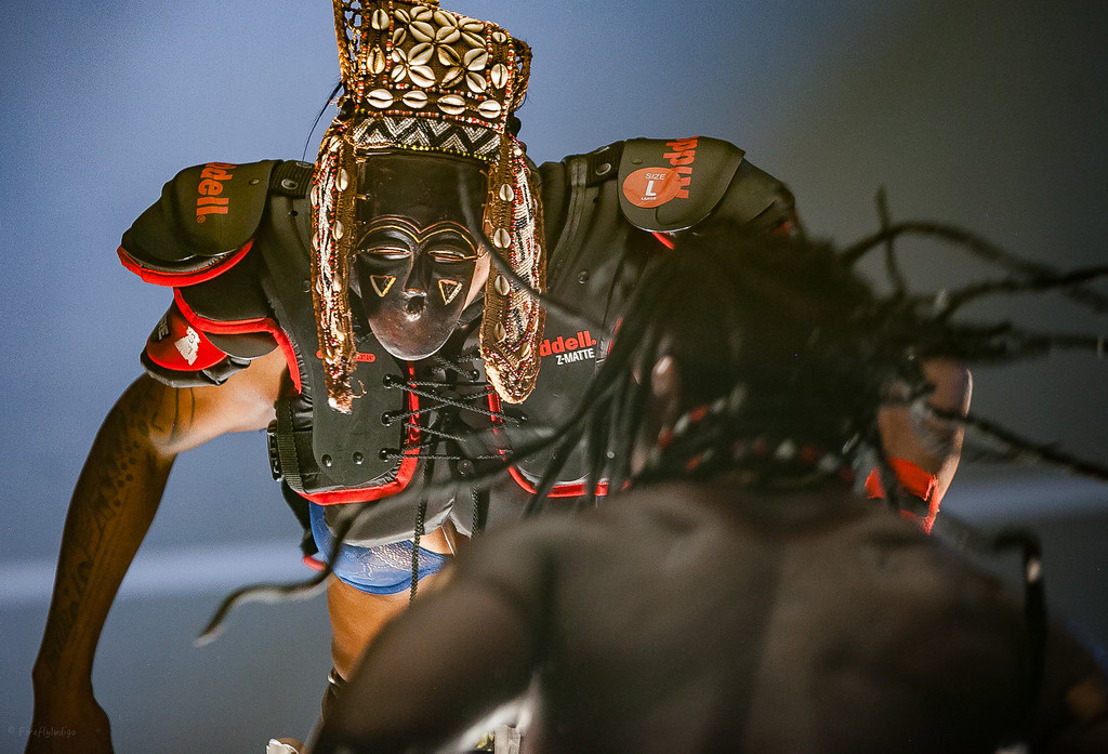 Performing arts in February - March - April
Mårten Spångberg (suspended), Hannes Dereere & Silke Huysmans, Nora Chipaumire, Jaha Koo, Sonja Jokiniemi, Begum Erciyas, Rabih Mroué, Ana Borralho & João Galante and Jan Martens
Tuesday, December 19, 2017 — Beursschouwburg is happy to announce the performing arts programme for the upcoming months. We're presenting a programme that includes a selection of artists with a close link to Beursschouwburg, such as Silke Huysmans & Hannes Dereere and Jaha Koo. At the same time, we'll be welcoming international artists like Nora Chipaumire, Mårten Spångberg, Begüm Erciyas, Sonja Jokiniemi or Rabih Mroué. The Portugese duo Ana Borralho & João Galante will embark on a journey with 12 young people from Brussels, with whom they will create a fragile and intimate 'coming of age' performance on the basis of the question of happiness. On the occasion of the 'Dag van de Dans' choreographer Jan Martens will be be returning be Beursschouwburg for the fourth time.
Picture: Nora Chipaumire (ZW/US) - Portrait Of Myself As My Father - 16 & 17 February
!! SUSPENDED !! Fr. 2 & Sa. 3 February
Mårten Spångberg (SE) - Digital Technology
performance - Belgian premiere
A solo performance by the Swedish choreographer Mårten Spångberg. A meditation on the presence of objects ‒ a stream of impressions that ends with eating an ice cream together.
Fr. 9 & Sa. 10 February
Hannes Dereere & Silke Huysmans (BE) - Mining Stories
theatre
A documentary perfrmance about a devastating mine disaster in the mining region Minas Gerais (Brazil), where Silke Huysmans spent her childhood. In a region where more than three out of four people work in the mining industry, the disaster resembled a complete tabula rasa.
Fr. 16 & Sa. 17 February
Nora Chipaumire (ZW/US) - Portrait Of Myself As My Father
dance
A postcolonial boxing match reveals how conflict is passed on from generation to generation. One thing remains clear: in this combat, no one can get away from their skin.
Fr. 23 & Sa. 24 February
Jaha Koo (KR/NL) - Cuckoo
theatre
Far away from his home country, Jaha Koo experienced a feeling of isolation when his electric rice cooker announced that his meal was ready. In performance Cuckoo, rice cookers are the only progagonists on a journey through 20 years of Korean history, based on the personal experiences of political events.
Fr. 16 & Sa. 17 March
Sonja Jokiniemi (FI) - Blab
dance
Blab literally means chatter, chit-chat, meaningless talk. The Finnish dancer and choreographer Sonja Jokiniemi investigates the point where language falls short and humans become part of something non-human.
Fr. 23 & Sa. 24
Begüm Erciyas (TR) - Voicing Pieces
installation
Begüm Erciyas explores the political and poetic power of the act of speaking. In the intimacy of a soundproof booth, we discover a script whose words have to be deciphered out loud.
Fr. 13 & Sa 14 April
Rabih Mroué (LB) - Sand in Eyes
lecture performance - Belgian premiere
Lebanese artist, filmmaker and performer Rabih Mroué investigates the visual politics behind IS recruitment videos.
Fr. 20 & Sa. 21 April
Ana Borralho & João Galante (PT) - Trigger of Happiness
performance
A group of young people from Brussels, about growing and becoming bigger, about finding themselves without losing themselves in compulsive behaviour – six, eating, games – or other intoxications.
Th. 26, Fr. 27 & Sa. 28 April
Jan Martens (BE) - Rule of Three
dance - as part of Dag van de Dans on 28 April
A danced performance, in between a concert and a collection of stories. Rule of Three feels at the same time like the vibe of hardcode nightcluband and losing yourself in a book.
2 & 3.02 - dance: Mårten Spångberg - Digital Technology
26 - 28.04 - dance: Jan Martens - RULE OF THREE
16 & 17.03 - dance: Sonja Jokiniemi - Blab
23 & 24.02 - theatre - Jaha Koo - Cuckoo
16 & 17.03 - dance: Nora Chipaumire - Portrait of Myself as my Father
9 & 10.02 - theatre: Hannes Dereere & Silke Huysmans - Mining Stories