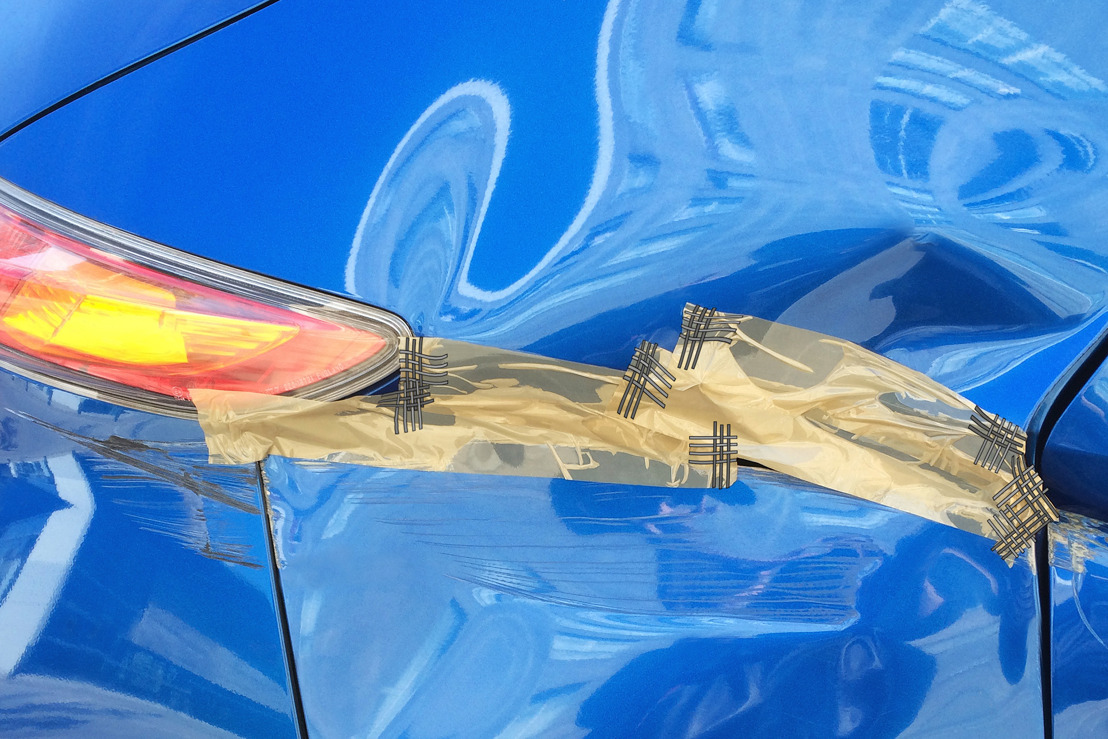 Expo: Hana Miletić - 'Materials'
16.09 - 17.12.2016 at Beursschouwburg - as part of Come Together
Thursday, September 8, 2016 —
Open: 17 September - 17 December. We - Fr 12:00-18:00 & Sa 12:00-19:00
+ Exceptionally open on Su 18 September, on the occasion of Car Free Sunday (12:00-18:00).
Vernissage: Friday 16 September, 19:00 - as part of the opening weekend of Come Together at Beursschouwburg.
free
Beursschouwburg and Bâtard Festival join forces for an exhibition by Hana Miletić. Miletić is an artist who charts the traces of political changes at both the individual and the collective levels. She calls herself a street photographer, employing photography as a medium with which to orient herself in a continuous investigation into social realities. Her works include of performances, installations, workshops, printed matter and more.
This exhibition is centred around her weaving practice. It is a practice that once again allows her to connect with a craft that the women in her family have been engaging in for many decades. With weaving, Hana Miletić takes time to engage with the social interweavings all around us.
Hana Miletić reveals these social interweavings in two ways: by exhibiting her new, woven textile works, and by putting together a programme with workshops, lectures, performances and screenings. For this programme, she has invited artists and collectives that work cooperatively within a feminist tradition, including a DJ workshop for women and a Wikipedia edit-a-thon.
---
Programme Materials - performances, reading groups, screenings & workshops
Fr. 16.9, 20:00: Katharina Zimmerhackl - Collective Reading, Affective Reading I free - reservation recommended
The performance explores how a collective form of reading can bring alive a new collective body with the potential of a different collective knowledge. The literary material used is by protagonists of the early Russian biocosmism movement who theorized collective bodies and the dissolution of the subject within a collective.
-
We. 21.9, 15:00-19:00: Workshop by Bibliotheca I free - reservation recommended
Biblioteca is an underground local network for the distribution of digital publications within small communities. It proposes an alternative model of distribution of digital texts that allows specific communities to form and share their own collections.
-
We. 28.9, 18:30: Readinggroup led by Charlotte Van Buylaere - first meeting I free - reservation recommended
In a threefold gathering the reading-group will reflect on how feminism is woven into a common-based perspective. Starting off with a critical reading of Silvia Federici's infamous text on feminism and the politics of the commons, the reading-group will elaborate on issues of reproductive work, feminism and sharing economy. Throughout different examples of designated artworks, texts and videos, the reading-group aims to debate about and look for alternative modes of organizing reproductive work. What are the possibilities and benefits of cooperated domestic work? And how can we achieve this in a contemporary daily routine? How can we make this cooperation sustainable and valuable in the shadow of a competing and monetary profit-minded neoliberal society? How to change the perspective towards undervalued and diminished labor? And the foremost important question during this debate: "How can we actually do it?"

In contrast to of a traditional reading group, this event is practically oriented aiming to inspire and encourage participants to introduce common-based practices into their own lives. 

-
Sa. 8.10, 17:00: Evening curated by Warrior Poets I free - reservation recommended
The Brussels-based collective Warrior Poets creates open spaces where personal narratives can be shared through poetry and spoken word performances, lectures, music and healing discussions. The collective's programme focuses on decolonizing knowledge and raising intersectional consciousness.
For this evening Warrior Poets invites the interdisciplinary artist Jacob V Joyce with The Alphabetical Anthology of White Liberal Proverbs.
-
Sa. 22.10, 15:00-19:00: Workshop by Just For The Record I free - reservation recommended
Just For The Record's workshop will focus on the production of more equal knowledge on Wikipedia – a platform to re-write history in a new and collaborative way.
-
Sa 29.10, 17:00: Readinggroup led by Charlotte Van Buylaere - second meeting I free - reservation recommended
See first meeting.
-
Th. 17.11, 18:30: Lecture and workshop by [BLOK] I free - reservation recommended
The curatorial collective will present their local research project on female presence in the monumental sculpture of Zagreb, Croatia, Reading Public Sculpture from a Feminist Perspective.
This research operated on two levels: [BLOK] tackled the question of female representation, as well as the issue of women artists as authors of public sculpture, considering both gender and class. After presenting their conclusions, and new questions which emerged from the process, [BLOK] will broaden the argument to the public space of Brussels, analyzing politics of creating public memory in order to detect the material base which generates patriarchal patterns.
-
Sa. 26.11, 17:00: Readinggroup led by Charlotte Van Buylaere - third meeting I free - reservation recommended
See first meeting.
-
Fr. 2.12, 18:30: screening: Kym Ward Weaving and the Algorithm I free - reservation recommended
The text and video work Weaving and the Algorithm by Kym Ward looks at feminist histories of the algorithm, and the use of the algorithm in governance and policy making.
The research tries to get away from thinking the algorithm as an incomprehensible set of codes, or an overarching software that was made by one programmer or a team of programmers – instead trying to point towards complex webs or weaves of institutions, policy makers, individuals and programmers involved in the data output.
-
Sa. 17.12, 15:00-19:00: DJ workshop for women and live b2b DJ set by Side Room I free - reservation recommended
The format of the workshop challenges the stereotypical role of women within music culture, encouraging women to walk the stage and deconstruct the myth of the male DJ-guru. Here, improvisation, exchange, experimentation and learning-by-doing can offer alternatives to gender inequality and institutionalized patriarchy.