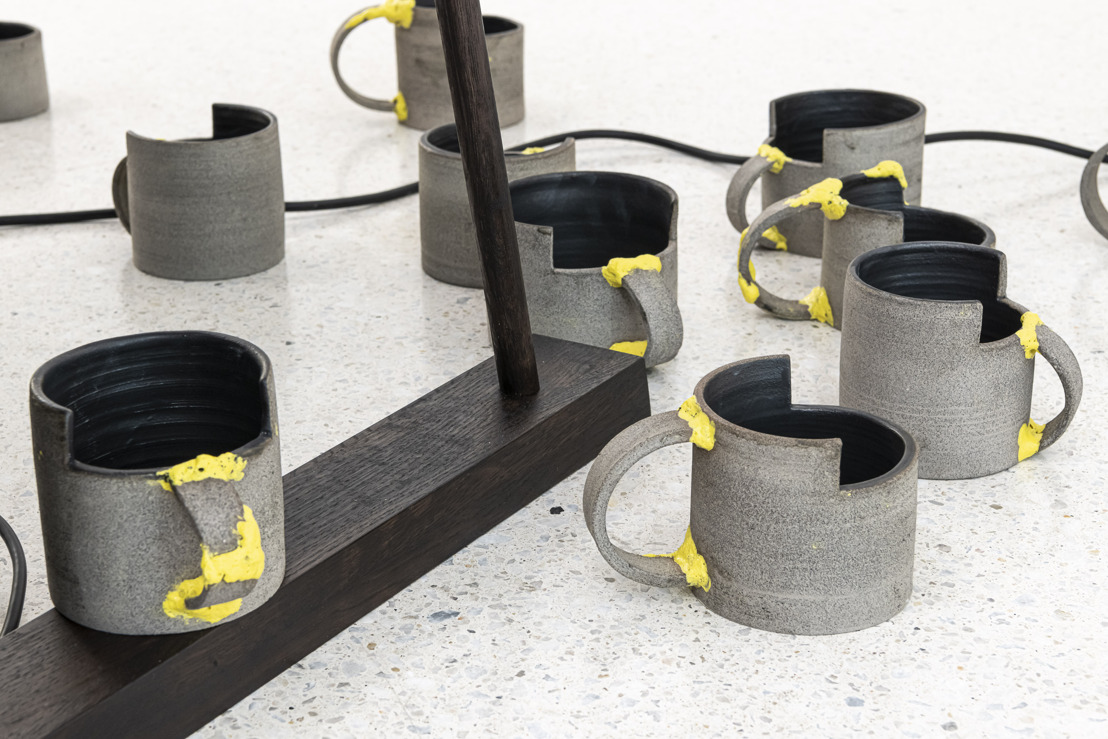 Expo Ève Chabanon opens at Beursschouwburg
Eve Chabanon's first exhibition in Belgium features ceramic sculptures, printed textiles, film and sound, woven together in a tale about value, profit and complementarity.
Friday, April 23, 2021 — Are We There Yet? In the frame of this year's focus programme, gravitating around questions of endurance, duration and movement, Brussels-based artist Ève Chabanon presents a new chapter of a collective project exploring – or diverting – the rhythms and modes of cultural production. Her first exhibition in Belgium, Chapter 4: Sold features ceramic sculptures, printed textiles, film and sound, woven together in a tale about value, profit and complementarity. Sofia Dati, Beursschouwburg's new visual and audiovisual arts programmer curated the exhibition.
Intertwining multiple stories, trajectories and practices, Ève Chabanon delves into issues of labour, collectivity and social agency. How do practitioners in exile gain access to the ressources, spaces and networks needed to practice a craft? This question became the basis of the process that she initiated while volunteering in the language school Thot, progressively building up a network of organisations working with persons in exile in France. From one encounter to the next, the 'non-producers' started organising themselves as a collective in 2016, testing their own modes of cooperation and transmission.
Yara Al Najem, Abou Dubaev, Abdulmajeed Haydar, Olivier Iturere, Nassima Shavaeva and Aram Ikram Tastekin each play their part in shaping a common ground, namely The Surplus of the Non-Producer. Workshops, exhibitions and conversations serve as ways for them to navigate in and out of the market, generating a form of surplus value that nestles in the cracks and at the margins; in those places where standards are loosened and where debt accumulates. Since the first chapter of the project at Lafayette Anticipations, Paris (2018), then moving on to Bétonsalon - Centre d'art et de recherche, Paris (2020) and Westfälischer Kunstverein, Münster (2020), the non-producers have found different avenues to infiltrate the mechanisms that regulate the production, circulation and promotion of cultural goods. Alongside norms of exploitation and exponential capitalisation, the surplus of the non-producers shakes the surface of an ever-more demanding production system.
Is 'Chapter 4: Sold' bidding the remains of a gone process? Must sale be an abdication? Or does it lie between the justified hope for an income and an act of deceit ? The making of the non-producers invites us to explore a certain economy of the margins.
Ève Chabanon (b. 1989, Poissy, France) lives and works in Brussels. She graduated from the Haute École des Arts du Rhin (HEAR) in Strasbourg in 2013, before taking a Masters in Curating at the Sorbonne Université in Paris in 2014 and participating in the Open School East in London and Margate in 2016. She took part in several residencies, including at the White House in Dagenham in 2017, the FRAC Grand Large in Dunkirk in 2018 and Te Whare Hera in Wellington, New Zealand, where she presented her first solo exhibition "Eating Each Other" in 2019. She was awarded the Prix Sciences Po for contemporary art in 2018 for her project "The Anti-Social Social Club: Episode One, The Chamber of the Dispossessed". Chabanon's works have been shown in France as part of La Manutention, a performance programme at Palais de Tokyo (2018), at Parc Saint Léger (2016), and the CAC Chanot, Clamart (2019).
New visual and audiovisual arts programmer
Ève Chabanon's "Chapter 4: Sold" is the first exhibition in Beursschouwburg programmed by Sofia Dati. She will be curating Beursschouwburg's visual and audiovisual arts programme that will spread around multiple spaces in Beursschouwburg. Over the past two years, Sofia worked in WIELS as a curatorial assistant, with a special focus on the exhibition Risquons-Tout. Sofia studied Literature at La Sorbonne Nouvelle Paris 3, Cultural Studies at KU Leuven and Curatorial Studies at the Fine Arts Academy in Rome, and has written for the magazines Po&Sie, Arshake and Conceptual Fine Arts, among others.
"Cultivating dialogue, challenging ideas, navigating different artistic scenes… That is the kind of platform I want to uphold together with artists and audiences at Beursschouwburg." - Beursschouwburg's (audio)visual arts programmer Sofia Dati
OPENING EXPO ÈVE CHABANON
Friday 23 April 14:00 - 21:30
no reservation needed
OPENING HOURS24 April to 17 July: Wednesday 'till Saturday from 12:00 - 18:00
23 July to 21 August: Wednesday 'till Saturday from 15:00 - 20:00
25 August to 4 September: Wednesday 'till Saturday from 12:00 - 18:00
FREE ENTRY