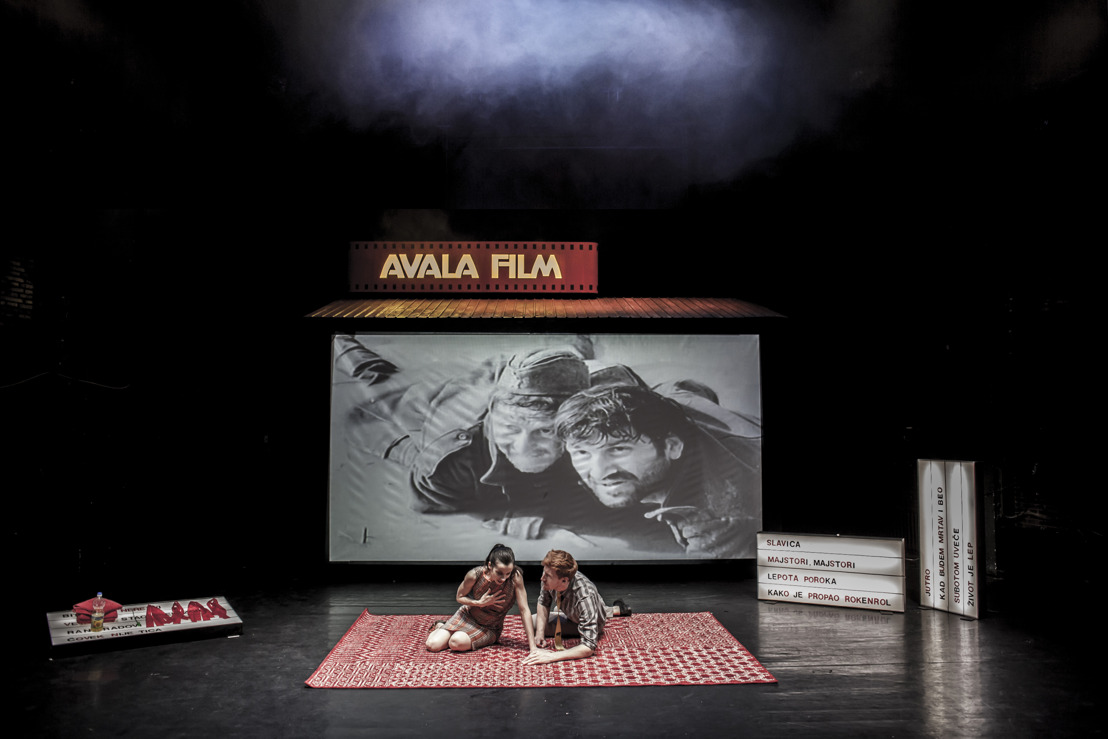 Belgian premiere: Sanja Mitrović & Vladimir Aleksić - "I Am Not Ashamed of My Communist Past"
Thursday, September 22, 2016 —
7 & 8 October, 20:30 in Beursschouwburg - as part of Come Together
In I Am Not Ashamed of My Communist Past, the Serbian theatre maker Sanja Mitrović and actor Vladimir Aleksić take on the recent history of the Socialist Federal Republic of Yugoslavia (SFRY), a country that only still exists in our memory and our imagination.
Nonetheless, the fundamental idea of Yugoslavia – a multiethnic, multireligious and socialist state – is still relevant to today's European struggle.
It was this idea that brought childhood friends Sanja Mitrović and Vladimir Aleksić together, both of whom emigrated in 2001. Although Sanja still lives and works in Western Europe, Vladimir returned to Serbia to rebuild his life there. By using personal memories and images from Yugoslavian cinema, they not only reveal the story of Yugoslavia, but also their own. Together, they investigate whether it is possible to remain loyal to the ideas that they once believed in. What is it that unites communities that share the same country? What remains of values such as solidarity and social justice in times of materialism and individualism?
More information, hi-res pics, etc... please contact Yasmina Boudia (yasmina@beursschouwburg.be).
Foto: Marko Berkeš
Credits:
concept & performance: Sanja Mitrović, Vladimir Aleksić I directed by: Sanja Mitrović I in collaboration with: Vladimir Aleksić I dramaturgy: Jorge Palinhos, Olga Dimitrijević I choreography: Sanja Mitrović I set & costume design: Frédérick Denis I licht design & technician: Giacomo Gorini I sound design: Vladimir Pejković I assistant director: Siniša Mitrović I original video material: Vladmir Pavić, Frédérick Denis I video editing: Nikola Vrzić, Siniša Mitrović I video & sound technician: Wouter Dupont I consultant: Cis Bierinickx I English translation: Siniša Mitrović I publicity: Jeroen Goffings I producers: Jelena Knežević, Tamara Pović I production & tour management: Liesbeth Stas I production by: Sanja Mitrović/Stand Up Tall Productions (Amsterdam) and BITEF Theatre (Belgrade) I co-produced by: Beursschouwburg (Brussels) I partners: Pianofabriek (Brussels), Centar Film (Belgrade), Yugoslav Cinematheque (Belgrade), Avala Film, (Belgrade), Film Center Serbia (Belgrade), National Theatre Toša Jovanović (Zrenjanin) I supported by: Flemish Community, Flemish Community Commission, City of Belgrade I special thanks to: Koninklijke Vlaamse Schouwburg (Brussels)
On tour:
7-8 October 2016 . Beursschouwburg . Brussels (BE) - Belgian premiere I 12 October 2016 . Cultuurcentrum Hasselt (BE) I 13 October 2016 . NONA . Mechelen (BE) I 29-30 October 2016 . FIAC BAHIA . International Performing Arts Festival . Salvador de Bahia (BR) I 26-28 November 2016 . BITEF Theatre . Belgrade . National Theatre Toša Jovanović . Zrenjanin (SR) I 2-3 February 2017 . Reims Scènes d'Europe Festival . Reims (FR)