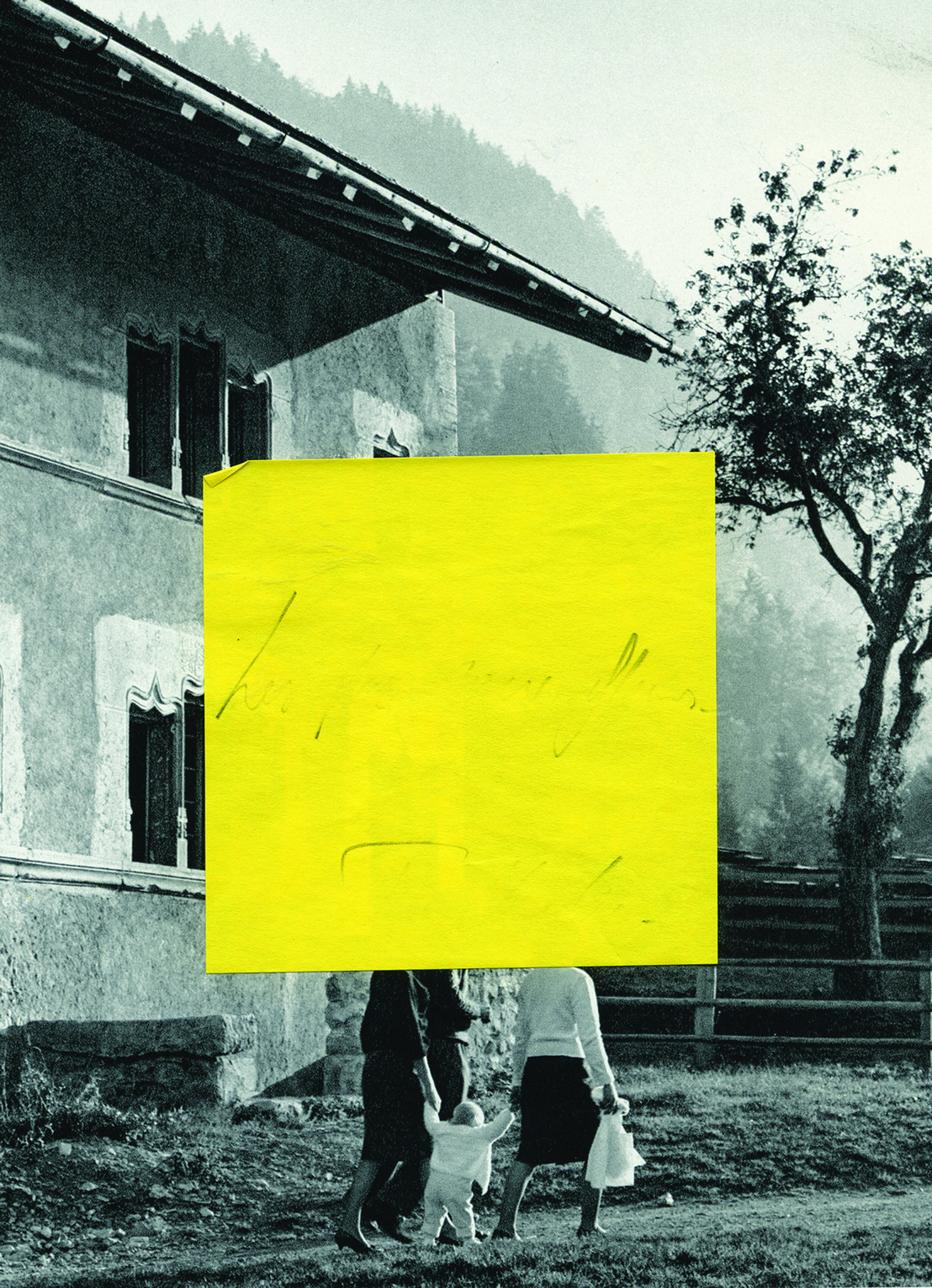 Audiovisual Arts in October & November
Meggy Rustamova, Mario Pfeifer, Sarah Vanagt, Gerard-Jan Claes, Roy Villevoye, Jeremy Shaw, and many more.
Friday, September 25, 2015 — Within the framework of The Kids Are All Right
This fall, we give the stage to artists who think about (their) family ties, we are curious about the usual generation gaps, invite artistic families and search for the things that one generation leaves behind for the generation that follows.
What happens when multiple generations come together in one place, live together in one city, survive in the same world? What's it like to age in Brussels, a city that keeps on getting younger? Or what's it like to watch your children grow up in a country with a different culture than the one you grew up in? And how do young people react to our city?
We sincerely hope to welcome you at Beursscohouwburg during the course of the next two months!
EXPO
Meggy Rustamova (BE/GE/AS)
Observations
Vernissage: Friday 2.10 - 19:00
Open: 3.10 - 28.11, We-Sa, 12:00 - 18:00 (Sa > 19:00)

Meggy Rustamova's (°1985) work – videos, performances, installations with a deeper poetic layer – perfectly matches the generational and familial themes we delve into in The Kids Are All Right. The presence of Rustamova's mother in the video M.A.M. (My Assyrian Mother) will meander through the expo, together with chronicles about fictional characters she wrote herself and with photographic sound installations.
read more
FILM & VIDEO
Zéro de conduite #4:
Cavalo dinheiro (Horse Money)
Pedro Costa (PT)
Th 8.10, 20:30

After three programmes with shorter films, Zéro de conduite (in collaboration with Courtisane & Beursschouwburg) chooses to show only one film this time: the wonderful Cavalo dinheiro (2014), the latest film by Pedro Costa.
read more
Sarah Vanagt (BE)
De Ontwaring & In Waking Hours
Th 22.10, 20:30
Brussels filmmaker Sarah Vanagt composes a film programme with two of her most recent short films (De Ontwaring - premiere & In Waking Hours, topped with an invisible thieve and some bewitching eggs from the early days of film.
read more
"No strings attached". Exploring the relation between ethnography and contemporary arts.
Symposium on (audio)visual arts
We 28.10 & Th 29.10, 10:00 - 17:30
A selection of partners from Brussels and Ghent (SoundImage Culture - SIC, KASK-School of Arts Ghent, Beursschouwburg, UGent, Platform 0090, LUCA School of Arts - campus Sint-Lukas Brussels, Argos - Centre for Art and Media and deBuren) join hands for a two-day symposium on the relation between anthropology and contemporary (audio) visual art and the many forms in which art can present itself today.
read more
Company
A film programme by Sirah Foighel Brutmann and Eitan Efrat, with Meggy Rustamova & Pieter Geenen
Th. 5.11, 20:30
In the screening programme Company, four local artists join to present their work. They all belong to the same generation: on the one hand because they are of the same age, on the other hand because they belong to the same artistic family - because of the artistic story they tell, with a similar approach and method of working.
read more
Gerard-Jan Claes (BE)
Itinerary of a Ciné-Child: On Cinema at the Cinema marathon
Th. 19.11, 17:00
"I think the best way to look at these programs is to enter into the image without a single name or reference in your head. The less you know, the better." - Jean-Luc Godard
read more
Paul Poet (AT)
My Talk with Florence
Th. 26.11, 20:30 - Belgian premiere
This controversial film, brought in two unedited parts, is a highly unsettling reading of the social liberalisation on the one hand, and liberal machiavellism on the other.
read more
BLACK BOX SCREENINGS
Mon – Sa: 12:00-22:00 - free
Every movie deals with the same theme (generations, family ties) and investigates 'legacy' in a more ethnographic context. Inheritances, traditions, rituals, special family histories and stories are dealt with, and also the transmittance of knowledge in small communities (or very large ones) and the view of a young generation opposed to that of an older one.
Each Wednesday at 20:00, we organise a collective viewing moment. We invite an expert to introduce the film (the expert is picked according to the subject of the film).
2.10 - 10.10
Mario Pfeifer (DE)
Approximation in the digital age to a humanity condemned to disappear
Approximation is set on Shunuko, an island known today as Isla Navarino, located in the southernmost parts of Patagonia, Chile. For four months, Mario Pfeifer observed the Yaghan, a people who first settled in that region thousands of years ago. The remnants of their culture – radically transformed by colonisation and oppression – operate in a vacuum: in museum cabinets and reference works of sociologists or anthropologists.
read more
14.10 - 17.10
Marine Hugonnier (FR)
The secretary of the invisible
Marine Hugonnier's film is a tribute to Jean Rouch, the French filmmaker and anthropologist whose 1955 film Les Maîtres Fous heralded the arrival of 'direct cinema' (set out to collapse the distance that separates the apprehending gaze of the camera from its subject).
read more
21.10 - 24.10
Jeremy Shaw (CA)
Quickeners
Shaw uses original black & white images as the foundation for a new narrative overlay, where elements of science fiction, neurological science and biological transcendence blend into one another.
read more
28.10 - 31.10
Anja Dornieden (DE)& Juan David Gonzalez Monroy (DE/CO)
The Masked Monkeys
In this poignant video essay, Anja Dornieden and Juan David Gonzalez Monroy turn their attention to the Indonesian 'wayang topeng', the masked arts.
This form of expression is thousands of years old and is said to have arisen from tribal death rites in which masked dancers were considered the interpreters of the gods.
read more
4.11 - 7.11
Roy Villevoye (NL)
Voice-Over
Since the early 90s, Roy Villevoye has been making films in, and about, the Asmat region in the Indonesian part of New Guinea. In his work, he explores issues around anthropological representation and the conventions of documentary filmmaking. Through new narrative structures however, he distances himself explicitly from this genre.
read more
12.11 - 14.11
Aslan Gaisumov (RU/CE)
Volga
In this straightforward, but no less effective video, 24-year-old Aslan Gaisumov confronts us with the tragic conflict in his native war-torn Chechnya. This partly autobiographical document shows how fleeing families, sometimes by their dozens, try to fit into small cars in search of a safe haven.
read more
18.11 - 21/11
Ben Russell (US)
Greetings to the Ancestors
Greetings to the Ancestors explores the structure of mythical traditions, origin stories and dream constructions.
read more
25.11 - 28.11
Pauline Julier (CH)
La disparition des Aïtus
The Swiss Pauline Julier came across a small news item rather accidentally. Tuvalu, a forgotten archipelago of nine small islands in the Pacific Ocean, sees its existence threatened by rising sea levels. It is expected that the archipelago will be engulfed by water within less than 30 years.
read more