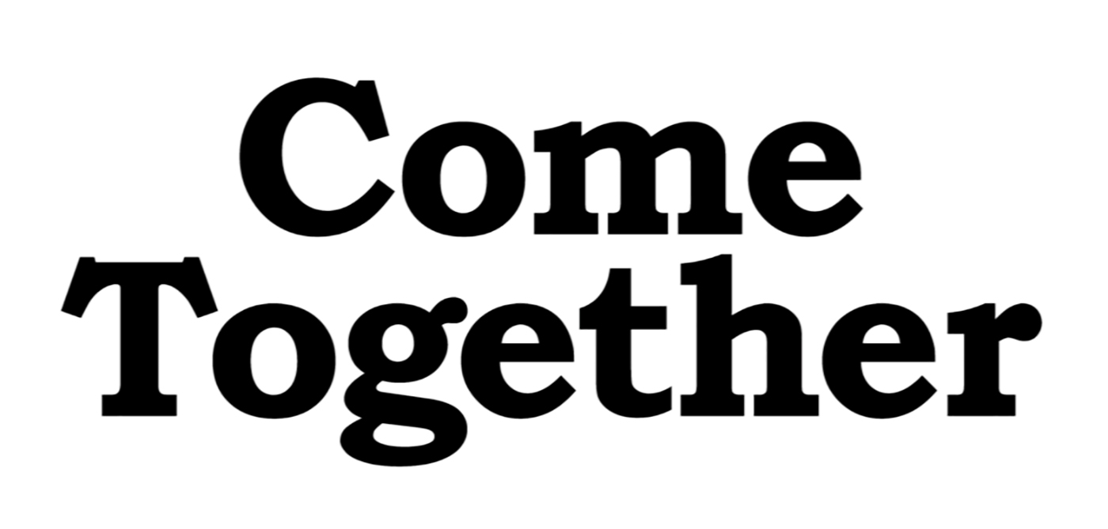 16.09 through 17.12 : Come Together
A programme on coming together, being together and working together
Friday, August 26, 2016 — performing arts - film & video - expo - debate - music
With: Hana Miletić, Jan Martens, Pieter Geenen, Westrand Dilbeek, Sanja Mitrović & Vladimir Aleksić, Kassys, CAMPO, Hydrogen Sea, Ant Hampton & Gert-Jan Stam, SIC, Yuri Ancarani, Pink Screens, Wu Tsang, and many more...
You can watch a film on your own at home; you can surf for a concert on YouTube by yourself; you can be alone and read a synopsis from a performance. But… alone is so alone. The Beursschouwburg likes to do it all together!
What is it that an arts centre should be doing, if not bringing people together and providing time and space for a collective (artistic) experience, and certainly in times like these, where the talk is of fear and we all seem to be hiding behind our respective doors? That's why this autumn, our 'Come Together' focus is about coming together, being together and working together. 
To start the season (Openingsweekend: 16, 17 & 18 september), we step across the border to get a taste of what our physically close but mentally sometimes distant friends are up to in Dilbeek, at the Westrand cultural centre. We will be showing work that our partner in Ghent, at CAMPO, call 'significant'. More promising work in performing arts and music, respectively, can be seen in the programmes of the two festivals, Bâtard and SCHIEV. We will be working together for the first time with Pink Screens, as well as opening the doors wide for our familiar guests, such as Auguste Orts (10 years!), Workspace Brussels, Bâtard, SIC,…
Check the ffull programme of 'Come together' below or via beursschouwburg.be.
OPENINGSWEEKEND COME TOGETHER: 16, 17 & 18 SEPTEMBER: BEURSSCHOUWBURG & WESTRAND  
The openingsweekend of 'Come together' is under the sign of our exchange with the Westrand cultural centre in Dilbeek. Located in the flemish suburbs of Brussels and in 6 km distance to the Beursschouwburg, for many Brusselers it is also mentally far away - and vice versa: Also people from Dilbeek seem to find their way to the capital just with great effort. On Friday 16 september, we will warm up with a celebration at home in the Beursschouwburg. On the agenda: the opening of the expo, the Black Box programme and the new mural in the Beurskafee. Followed by a debate on the topic 'Brussels and its Flemish outskirts'. We conclude the evening with a concert of Hydrogen Sea from Brussels.
On Saturday 17 september we journey by various means (with music, on foot or by bus) to Dilbeek and invite the audience to join us. In company of Brecht Hermans and his rolling jukebox, we walk together from the Beursschouwburg to the Westrand. In Dilbeek the Beursschouwburg presents together with the Westrand a video - and installations programme, performances and the theatre performance Total Eclipse of the Heart by the Dutch Kassys. We close the evening with concerts of Beton and Nature Heaten, as well as a party with LEFTO and SupaFly Collective. 
On Sunday 18 september, we celebrate the Car Free Sunday in Brussels Captial Region, an annual tradition, the Beursschouwburg offers a programme with a free breakfast, workshops, children's activities, concerts and much more. And off course 'Dilbekenaren' are encouraged to cross the regional borders and to celebrate with us.
Sa. 17.09, 20:30 
Kassys (NL) - Total Eclipse of the Heart - theatre
As part of: Openingsweekend Come Together - collab. Westrand Dilbeek - more info
Fr. 30.09 & Sa. 1.10, 20:30
Jan Martens (BE) - Sweat Baby Sweat - dance
more info
Fr. 7 & Sa. 8.10, 20:30
Sanja Mitrović (RS/BE) & Vladimir Aleksić (RS)- I Am Not Ashamed of My Communist Past - theatre / performance
more info
Do. 20.10 & Fr. 21.10, from 6:00: A three some!
20:00 & 22:00: Danae Theodoridou (GR/BE) - One Small Step for a Man Hello, Goodbye - performance more info
From 6:00: Ant Hampton (GB) & Gert-Jan Stam (NL) - OK OK - interactive performance more info
From 6:00: Koen Theys (BE) - Serial Drummer Girls - video more info
Fr. 28 & Sa. 29.10: CAMPO (Ghent) & Beursschouwburg Come Together
20:30: Louis Vanhaverbeke - Multiverse - performance more info
Following: Robbert&Frank Frank&Robbert (BE) - Go Away Sorrow Of The World - installation / performance more info
We. 2.11 - Sa. 5.11
Bâtard Festival - performing arts / performance / video / debate
programme t.b.c. - batard.be
Sa. 19.11, 21:30
Wu Tsang and boychild, ft. Patrick Belaga - Moved by the Motion
 - performance
as part of: Pink Screens - more info
25.11 - 8.12: Julien Fournet / L'amicale de production (FR) - Amis, il faut faire une pause - lecture/performance more info
Fr. 25.11 & Sa. 26.11, 20:30 - Part I: 'Spectateurs de tout les pays, unissez-vous'
Fr. 2.12 & Sa. 3.12, 20:30 - Part II: La culture c'est dangereux
Fr. 7.12 & Sa. 8.12, 20:30 - Part II: Manifeste pour une nouvelle guilde de créateurs
EXPO
16.09 - 17.12
Hana Miletić (BE) - Materials
We. - Fr. 12:00-18:00, Sa. 12:00-19:00 - free 
Collab.: Bâtard - a festival for young/emerging/starting artists and thinkers. 
Hana Miletić is an artist who wears the cause of political change on individual and collective level on her sleeves. She calls herself a street photographer, whereby her photography is used as an instrument to orientate in a society which permanently changes. Amongst others, her work consists out of performances, installations, workshops and printed matter.
This exhibition, Materials, is centred around her weaving practice. With weaving, Hana takes time to engage with the social interweavings all around us. In the exhibitions she reveals them to us in two ways. On one hand by her new, woven textile works, and on the other hand by putting together a programme with workshops, lectures, performances and screenings. For this programme, she has invited artists and collectives that work cooperatively within a feminist tradition, including a DJ workshop for women and a Wikipedia edit-a-thon.
Find more info about the full programme via beursschouwburg.be.
FILM & VIDEO
We. 21.9 & Th. 22.9
SoundImageCulture: Presentations - Collective Practices - screenings 
soundimageculture.org - more info
We. 28.9, from 16:00
Apologia/Antologia 
Video Itineraries through the Spanish Context
more info
Th. 6.10
Clémentine Coupau (FR) - Common Moods
7 timeslots: 19:00, 19:40, 20:20, 21:00, 21:40, 22:20, 23:00 @Marriott Hotel
more info
Th. 20 & Fr. 21.10, from 6 pm
Koen Theys (BE) - Serial Drummer Girls - video
more info
Th. 27.10, 20:30
Zéro de conduite #5 - programme t.b.c.
zerodeconduite.be - more info
Th. 17.11, 20:30
Pink Screens Film Night - programme t.b.c.
collab. pinkscreens.org
Th. 24.11, 19:00
10 years Auguste Orts. With: Herman Asselberghs, Anouk De Clercq, Robbrecht Desmet, Manon de Boer and Sven Augustijnen
collab. augusteorts.be - more info
Th. 1.12, 20:30
Yuri Ancarani (IT) - 2015  - film / documentary
more info
BLACK BOX LOOPED SCREENINGS: VIDEO
The 'Black Box' is the smallest room in Beursschouwburg, a cinema hidden in the basement under the grand hall. Every two weeks the Beursschouwburg presents in the 'Black Box' a new video which (in loop) during the opening days of the expositionuntil 10 pm. Following the central themes of Come Togheter, the Black Box programme offers a selection of videos that dwell on themes as: what and where are 'we', collective identity vs. individual identity, what role does art play in this, etc...
In relation to the opening of every new video on Thursdays at 8 pm, the Beursschouwburg organizes a collective screening session in which we ask experts to filter out and present the essence of the screened feat to the audience and offer some fingerfood. 
With feats of: Pieter Geenen (BE), Anton Vidoklo (RU), Ane Hjört (NO), Emanuel Almborg (SE), Melanie Bonajo (NL) & Ericka Beckman (US).